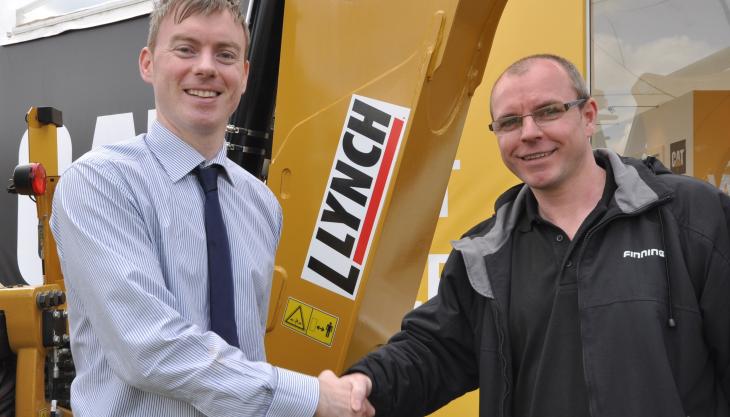 Lynch Plant Hire invest in a fleet of 22 new Cat machines as part of business expansion plan
FOLLOWING an investment of around £2 million in Caterpillar equipment at the start of the year, Lynch Plant Hire have signed another new deal with Finning for the acquisition of 22 new machines, including 12 Cat 308E excavators and four D6N dozers.
The latest Stage IIIB-compliant machines form part of Lynch's £12 million expansion programme to strengthen their fleet with more environmentally friendly equipment. Lynch had carried out extensive testing on a Cat 432F backhoe loader at one of their sites and the feedback was extremely positive with operators praising its superior levels of handling and comfort – a key factor in the company's decision to investing in four of the new machines.
Merrill Lynch, operations director for Lynch Plant Hire, said: 'The significant investment we have made in Cat machinery supplied by Finning is driven by our commitment to supply customers with the very best construction equipment on the market. We believe the deal with Finning is further evidence of this ethos and the feedback we have had from our operators is a testament to the quality of the Cat equipment.
'Many of our customers are now focused on working on projects where stage IIIB emission standards are essential, such as the Crossrail Project in London and work at the Olympic Park.  We will now be able to supply them more readily with the best machines for these kinds of jobs, ultimately helping our clients to become more profitable.'
Dermot O'Connor, sales manager at Finning, added: 'Having established a solid working relationship with Lynch Plant Hire, it is encouraging to see the positive impact the Cat machines have already had for their customers.
'The deal done is a further endorsement of the quality of Cat machines and the excellence of the service Finning are able to provide, and I'm confident that additional business can be done with Lynch Plant Hire in the future.'