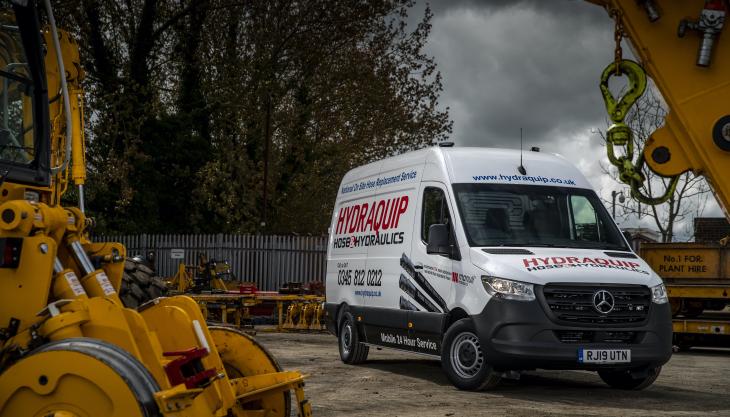 Acquisition of hydraulic services specialist extends product support and aftermarket services offering
FINNING UK & Ireland have acquired Hydraquip, the UK's largest independent providers of mobile hydraulic solutions, including nationwide hose replacement, assembly, and fitting; oil replenishment; and general mobile hydraulic services, 24 hours a day, seven days a week.
With 130 mobile service vans and highly trained technicians, the company's rapid-response capabilities mean jobs are typically completed within three hours of the initial customer call, reducing machine downtime, and generating significant cost savings and efficiency gains for customers.
Tim Ferwerda, managing director of Finning UK & Ireland, said: 'The acquisition of Hydraquip demonstrates our commitment to build on and extend our reach to provide exceptional product support and aftermarket services for our customers.
'The company is a great fit with Finning, in terms of its family-orientated and customer-focused culture, which complements our current product support service perfectly.
'The Hydraquip brand name will remain in place as we maintain and build upon the high standards of service they are known for. With our extensive joint network in the UK and Ireland, customers will find it even easier to reap the benefits of reduced downtime and operating costs.
'I'd like to personally welcome all the Hydraquip employees to the Finning family. We're looking forward to working side by side to ensure our customers benefit from the most responsive and specialist product service support across all our key sectors.'
Headquartered in Kent, Hydraquip employ 270 people and serve more than 4,000 customers across a diverse range of industries.
Alongside their on-site mobile hose services, the business also sells hydraulic and fluid power products and parts via its website and a network of 27 strategically located branches across the UK. In addition to hydraulic and pneumatic hose products, these branches also carry adjacent inventory of products such as oils and filters.
Duncan MacBain, founder of Hydraquip, said: 'Joining Finning is an extremely exciting move for Hydraquip and will prove a critical step in the continued growth of our offering, enabling us to recognize our full potential in the UK and further afield. We can see many cultural similarities as well as tremendous opportunities between the companies to give customers an even stronger proposition.
'This is down to the quality and commitment of our team, who will remain focused on offering our customers the very best service and support levels – now with the added backing of Finning, their network, and broader aftermarket capabilities.
'Our joint goals and vision remain to continue to build our market share and expand further from being the largest independent provider of mobile hydraulic solutions to the largest provider overall.'