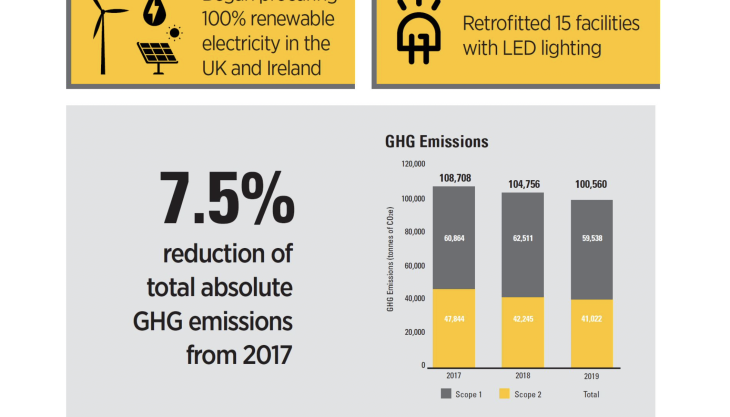 Company achieves ambition to eliminate all electricity-related greenhouse gas emissions
FINNING UK & Ireland, exclusive distributors of Caterpillar machines, have made the switch to 100% renewable electricity across all their UK and Irish operations. The commitment to procure green electricity is part of the company's strategy to reduce greenhouse gas emissions.
Finning have achieved their ambition to eliminate all electricity-related greenhouse gas emissions from their operations after signing an agreement to procure Renewable Energy Guarantee of Origin (REGO) electricity. REGO is certified by the UK Government energy regulator, Ofgem, which guarantees that the electricity purchased through the scheme comes from renewable sources, such as solar or wind power.
Finning are also working on driving down the consumption of energy across the company and have already reduced CO2 emissions of electricity by 30% by installing LED lights, which is projected to reduce electricity usage by a further 50% once the installation of new lighting is fully complete.
The global Finning group, which Finning UK & Ireland are a part of, recently published its sustainability report, which shows how the company is continuously and systematically working on cutting down greenhouse gas emissions and reducing the impact of its operations on the environment. This includes installing sensors and heating control systems to reduce CO2 emissions from heating in all its buildings.
In the UK and Ireland, Finning have already started to replace their fleet of service trucks with more environmentally friendly models. So far, the company has replaced 450 commercial vehicles. Moreover, petrol generators used to power ancillary equipment have been replaced with high-power inverters to charge battery packs and avoid unnecessary engine idling.
'Environmental responsibility is a commitment to continuously learn, grow and evolve,' explained Kevin Davies, head of procurement at Finning UK & Ireland. 'It's vital, therefore, that we continue to explore and implement more sustainable practices across every aspect of our business to improve both our performance and help customers with theirs. This includes adopting new technologies and raising awareness of environmental issues among our staff and customers.'