Employees and customers come together at UK and Ireland headquarters to mark major milestone
MORE than 1,000 employees, their families, and customers past and present came together at Finning UK and Ireland's headquarters, in Cannock, Staffordshire, on 9 September to celebrate a pivotal milestone in the company's history. The event was the last in a series of roadshows across the UK and Ireland to celebrate the company's 90th year.
At its peak, more than 1,000 people joined the celebrations in Cannock, alongside Finning International president and chief executive officer Kevin Parkes, who made the trip over from Canada, and Tim Ferwerda, UK managing director, who were also joined by members of the company's executive team and their families.
Visitors had the chance to take part in workshop tours and get a first-hand look at some of the machines Finning sell and service as the world's leading supplier of Cat machinery and equipment, including a Cat 730 articulated dumptruck that had been meticulously rebuilt by the team at Glasgow to give it a second lease of life.
Attendees also got the chance to try out a simulator with SITECH software that is used by machine operators on construction and quarrying sites to complete jobs accurately and efficiently. There were two popular mini-machine challenges where visitors could put their operator skills to the test.
Meanwhile, members of the Finning Learning & Development team were on hand to promote STEM careers, which included running an activity for children to use their budding engineering skills to build 'Finnbots'. Visitors also had the chance to learn about the company's apprenticeship scheme.
Finning customer JC Balls and Sons Ltd, from Ashbourne, donated two vintage Cat machines which took pride of place on the forecourt of the site during the day, whilst another customer, Ashbrook, donated their custom-finished silver Cat 308 which had the trademark yellow replaced with a one-off silver vinyl to celebrate their 25th anniversary.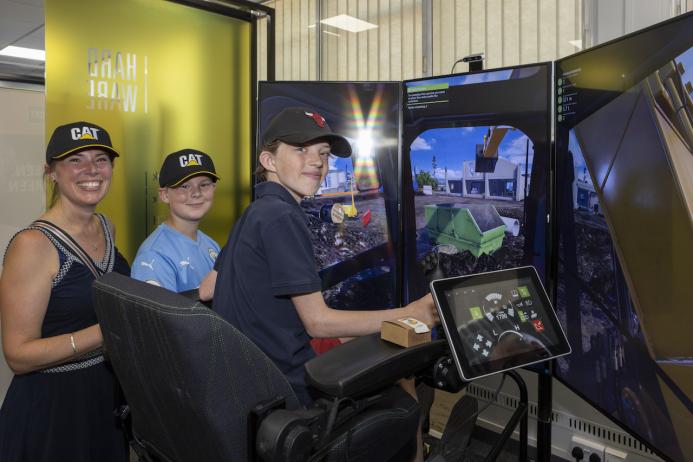 Commenting on the event, Tim Ferwerda said: 'What a lovely day it was, with so many colleagues, customers and their families coming together in celebration, whilst we showcased everything that's great about the Finning brand and our people-centric culture.
'I was proud of how we came together as a team to create such a positive employee and customer experience. Huge thanks and well done to everyone involved for pulling together an awesome event.'
A brief history of Finning
The past nine decades have seen Finning grow from their first branch in Canada to now serve customers on three continents. Finning currently employ around 1,400 people across 17 locations in the UK and Ireland, having opened their first branch in 1983.
Finning enjoy links with Caterpillar going all the way back to their inception 90 years ago – and specialist engineers continue to work on the latest Cat machines for demolition, construction, quarrying and agriculture, along with leading engines and gensets.
Beginning as the sole distributor of the Caterpillar Tractor Co in British Columbia, Canada, in 1933 with just six employees, Finning now have a global workforce of 13,000 people, operating across Western Canada, South America, the UK and Ireland.
In the 1980s Finning secured the rights to represent Caterpillar in the west of England, Wales and Scotland, buying two major dealerships – Bowmaker (plant) Ltd and the Caledonian Tractor and Equipment Co. Ltd. Following the acquisition of H. Leverton & Co in 1997 the company became the sole dealer of Cat products in England, Scotland and Wales at that time, and took the name Finning (UK).
Finning bought Lex Harvey in 2003, followed by Rollo Power Solutions in 2011, before winning the dealership for Northern Ireland in 2010, and shortly afterwards for the Republic of Ireland. The acquisition of distributor Bucyrus from Caterpillar in 2012, saw further growth, followed by Damar Group Ltd, which included Murray Control Systems. In 2014, Finning secured the SITECH dealership for the UK and Ireland.