Aggregate Industries take delivery of electric-powered LiuGong 856HE for site in Bow 
AGGRGEGATE Industries are continuing to show their commitment to net zero by launching their first electric-powered loading shovel. Manufactured by LiuGong, the 856HE is the world's first commercially available battery-electric loader and the first the Chinese manufacturer has rolled out in Europe.
The machine has been put to work at Aggregate Industries' facility at Bow, in East London, where it will be used to load aggregates from the site's railhead as well as at the adjacent London Concrete ready-mixed concrete plant.
The 21-tonne vehicle has a 423kWh lithium iron phosphate battery with a fast-charging capability of 1.7h. The machine, which has a 160kW engine and a 3.5m3 bucket capacity, can operate for more than 11h on a full charge. Most importantly, it uses zero fuel, has zero emissions, and produces low noise and vibration levels.
At Bow, it joins London's first all-electric truckmixer, which was launched earlier this year – electrification of the company's fleet being a central part of Aggregate Industries' wider approach to reach net zero before 2050.
Kirstin McCarthy, Aggregate Industries' director of sustainability, said: 'We are delighted to be working with LiuGong and that we are the first customer in Europe to be deploying this all-electric vehicle.
'We have worked closely with the manufacturer to get the specification and testing right, and it's routinely delivering a 10–11h shift on full charge and will be a real asset to our operations.
'We have a clear direction of travel for how we intend to reach zero emissions before 2050, and as a business that has a lot of vehicles and burns a lot of fuel, electrification of our fleet is a key part of that overall strategy.
'Change begins small and then gathers pace and we will be rolling out further electric vehicles across the business during the rest of 2023 and 2024, as we move towards low- or zero-carbon fuels or energy sources.'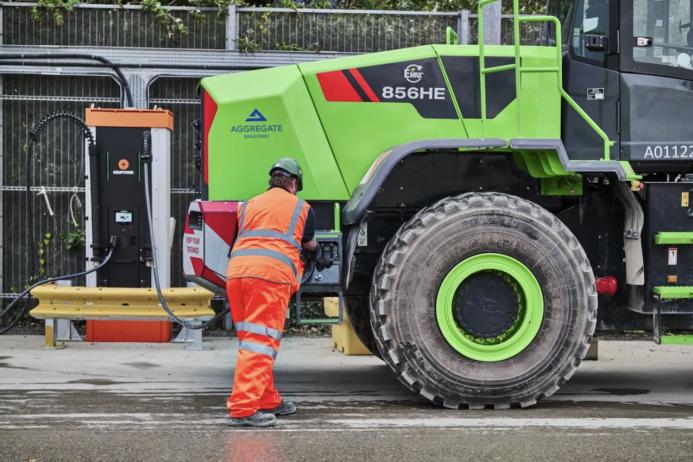 Oliver Keates, wheel loader product manager at LiuGong Europe, said: 'Working with Aggregate Industries has helped us to deliver our message of productivity and efficiency with reliability.
'This is a journey that began in 2018 for LiuGong, and we continue to grow and expand our fleet of electric vehicles. More and more companies can now see the benefits these machines bring to businesses. Through LiuGong's iLink telematics, companies are seeing real benefits, which are helping them achieve the ambitious targets that have been set by the Government.'
A second LiuGong 856HE is due to be delivered to Aggregate Industries before the end of the year. In May, Aggregate Industries launched their Journey to Net Zero Strategy, which lays out how they plan to reach zero emissions before 2050.