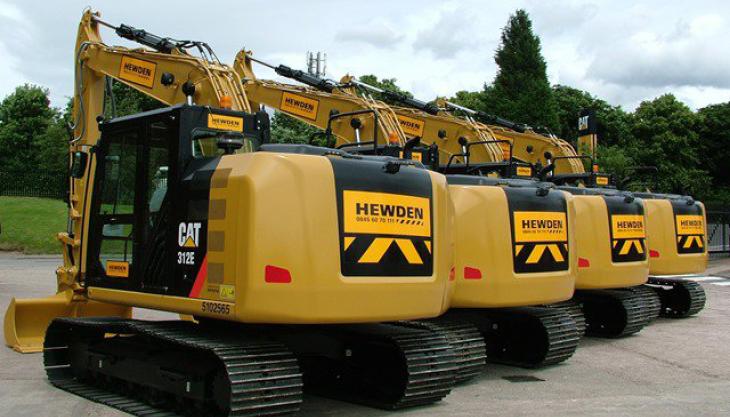 Auction firm appointed to dispose of assets of HS Realisations Ltd – previously known as Hewden Stuart Ltd
EURO Auctions, Europe's largest auctioneers of industrial plant, construction machinery and agricultural equipment, have been appointed to dispose of the cranes and general construction equipment assets of HS Realisations Ltd – the hire company previously known as Hewden Stuart Ltd, which entered administration on 22 November 2016.
The auction company has been working closely with joint administrators S.J. Woodward and C.P. Dempster of Ernst & Young LLP to locate, catalogue and assess all assets of the business, tracking cranes and construction equipment and, in many cases, assisting in repatriating them to a secure depot.
Joint administrator Sam Woodward commented: 'We are delighted to be working with Euro Auctions on the disposal of the crane and construction machinery assets of Hewden. We look forward to working closely with their team over the coming months and maximizing returns for creditors.'
The disposal, which will be conducted in two phases commencing early this month, should be completed by the end of April 2017.
Euro Auctions will start the disposal process by selling by tender some 127 mixed cranes and pieces of lifting equipment that are now securely stored at various Hewden depots across the UK. 
The auction company will also conduct the disposal of thousands of items of general construction equipment at a series of unreserved auctions to be conducted over a four-month period commencing in early January.
The sales will be held at selected Hewden depots across the UK in early January with the disposal culminating in a final sale at Euro Auctions' own 60-acre sale site in Leeds, later in 2017. 
The inventory will include excavators, dumpers, rollers, telehandlers and other popular items of machinery. Special interest is expected in a large consignment of 2015 and 2016 machines, many of which are still in warranty.
'All the equipment going under the hammer has been exceptionally well maintained and we expect real interest as it's all being offered without reserve, so buyers could pick up some real quality bargains,' commented David Betts of Euro Auctions.
Jonnie Keys, Euro Auctions' operations manager, added: 'We are delighted to have been selected by the joint administrators to work with them and advise on this project.
'Euro Auctions have extensive experience in conducting off-site disposal sales and, through our global network of buyers and consignors, we will be marketing to a specialist audience that has special interest in cranes and lifting equipment, which, along with the general construction machinery, has global appeal.'
Further details and catalogues for the various Hewden disposal sales will be available in due course on the Euro Auctions website (www.euroauctions.com).