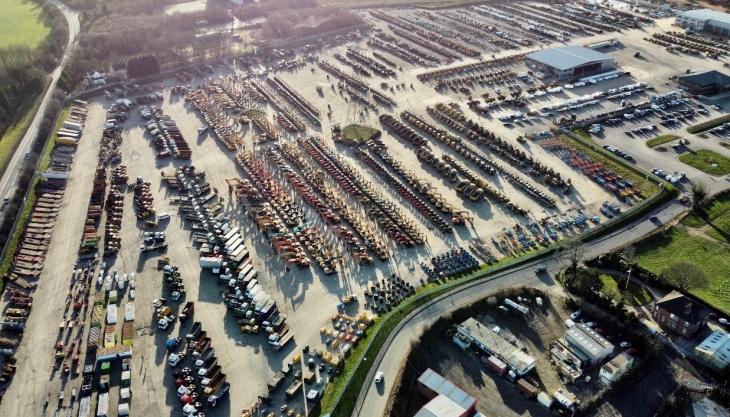 Record sale for Leeds auction site ahead of announcement that merger with Ritchie Bros abandoned
ON the eve of the news that their merger with Ritchie Bros had been abandoned, Euro Auctions produced the biggest sale in their history with more than 5,500 lots achieving a hammer of just under £45.3 million.
With 571 vendors from 23 countries and almost 4,000 registered bidders from 86 countries, the results of the recent four-day sale at Europe's largest auction site, in Leeds, showed that market confidence is still high, with an all-time record hammer for the site. Sales totals were almost equally split between the UK market and overseas.
'Euro Auctions have had a great start to 2022 with the auction hammer at this latest sale up some 20% from same period in 2021, and with auction revenues up 15%, our Leeds site has recorded its largest ever sale,' said Euro Auctions' general manager, Jonnie Keys.
Last week Ritchie Bros announced that their planned purchase of Euro Auctions had been abandoned after the Competition and Markets Authority (CMA) referred the deal for an in-depth Phase 2 investigation.
During its initial Phase 1 investigation, the CMA found that the two companies have a very high market share in the supply of auction services for used heavy construction machinery in the UK, with Euro Auctions being the clear market leader and Ritchie Bros the second-largest provider.
The CMA also found that other auction providers were significantly smaller, and that auction buyers and sellers were unlikely to switch to other sale methods, eg marketplaces, listing websites, and dealers. As a result, the CMA had concerns that the proposed deal could reduce competition in the UK market, which could result in higher prices for the companies' customers and a lower-quality service.
Following the CMA's Phase 1 investigation, the two firms offered undertakings to address these competition concerns. However, the CMA considered these were unlikely to effectively address the competition concerns identified and so, on 18 March 2022, the merger was referred for an in-depth Phase 2 investigation.
After Ritchie Bros asked the CMA to pause its investigation to allow the firms to consider their options, the companies publicly announced on 29 April that the merger had been abandoned. As a result, Ritchie Bros and Euro Auctions will now continue to compete for the supply of heavy equipment auction services across the UK.