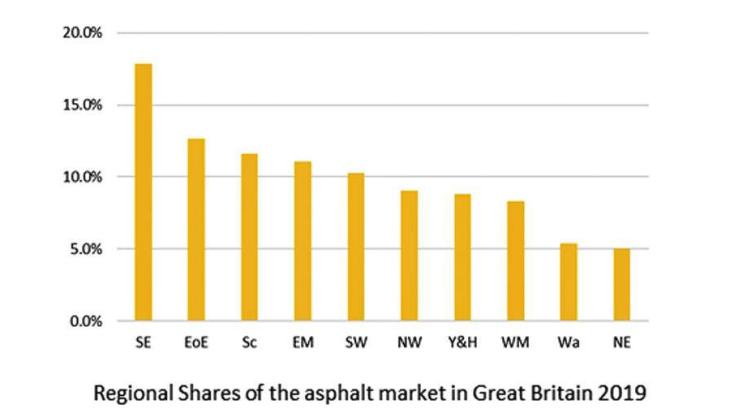 BDS Marketing Research publish first in suite of 'Industry Output Reports' for 2019
THE latest edition of 'Estimated Outputs of Asphalt Plants in Great Britain' has been published by BDS Marketing Research, providing estimates of outputs and market shares by individual asphalt producing plants and companies in Great Britain in 2019.
The report identifies around 270 plants across England, Scotland and Wales and provides a BDS estimate of the total asphalt market in Great Britain for 2019. It also outlines changes to asphalt plant ownership and details asphalt plant planning activity during 2019.
A key part of the report is the estimated output figures provided for all asphalt plants currently in operation in Great Britain, with details supplied on a regional, county and company level.
Whilst BDS outline the strength of the asphalt market in the report (25% growth over the last decade), in 2019 only a marginal increase was noted when compared with 2018 figures.
In 2019 it was evident that different regions obtained differing degrees of growth, some seeing notable market growth (often due to the supply of material for major road network improvements) and others seeing a fall in volume figures. On a regional basis, the South East represented the largest market share in Great Britain in 2019.
The previous year's report identified a relative surge in planning activity, however in 2019 the number of consents for new production facilities and replacement plants appeared to be back in line with pre-2018 figures.
In 2019, three companies – Tarmac, Aggregate Industries and Hanson – were estimated to have a 65% share of the asphalt market, with Tarmac remaining the leading producer of asphalt in Great Britain. In the BDS 'top 10' list of asphalt producers, six companies were estimated to have produced more than half a million tonnes of asphalt in 2019.
This extremely useful industry report is the first to be produced in 2020 from the BDS suite of 'Industry Output Reports'. Other reports being published shortly include: 'Estimated Outputs of Aggregates in Great Britain' and 'Estimated Outputs of Ready-Mix Concrete in Great Britain'.
To find out more or to purchase a copy of 'Estimated Outputs of Asphalt in Great Britain (2019)', click here.
To register interest in receiving any of the upcoming BDS estimated output reports, contact the BDS marketing team at: enquiries@bdsmarketing.co.uk