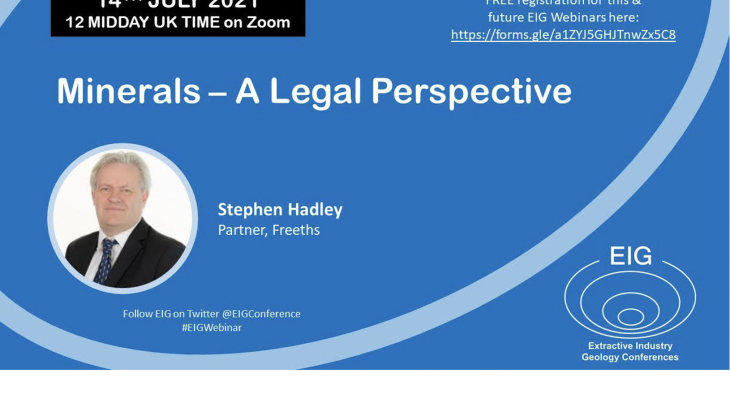 Extractive Industry Geology free webinar series continues on 14 July with live presentation by Stephen Hadley
THE next Extractive Industry Geology monthly webinar (#EIGWebinar) will be 'Minerals – A Legal Perspective', by Stephen Hadley, partner in the Dispute Resolution group at commercial law form Freeths LLP, at midday on Wednesday 14 July 2021 on Zoom.
The legal definition of a mineral is not one a geologist would predict or even recognize. This seminar will outline the key case law about whether something is a 'mineral' and how it might vary over time and location. Mr Hadley, who has a niche expertise in manorial and mines and minerals law, has acted for and against landed estates, farmers, landowners, property developers and mineral operators in disputes involving mineral rights.
The talk will be followed by a Q&A session (the talk and Q&A combined will last approximately one hour). Sign up for free registration for this and future EIG webinars here.