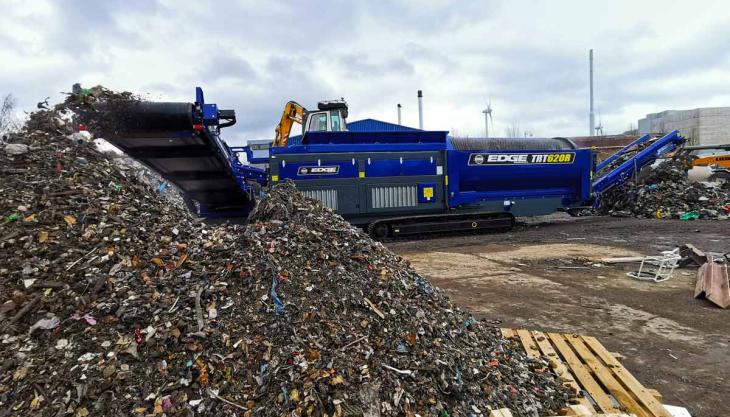 Company to showcase latest offerings, including the VS420 twin-shaft shredder and the TRT620R trommel
After four years away, it is back to face-to-face business at Hillhead 2022 and the team at EDGE Innovate are excited to meet customers old and new, to discuss material handling and recycling solutions and to showcase the latest offerings from their extensive product range, including the VS420 twin-shaft shredder and the TRT620R trommel.
Designed for high-capacity shredding, reliability, and low operational costs, the VS420 is EDGE's next-generation shredder and has been developed for ultimate versatility and high resistance to contaminants. Several customizable shredding programmes and chamber configurations are available, along with an intelligent operating system which incorporates tramp metal protection provides the ultimate security from contaminants and prevents asset damage.
At the heart of the VS420 are twin, 2m (6ft 7in) long synchronized, high-torque shredder shafts which can be customized to suit a customer's exact application and desired product size. EDGE's twin-shaft design provides exceptional material intake, ensures less wear, promotes self-cleaning, and prevents material wrapping, even in the toughest of applications.
The VS420 offers operators a host of design features such as hydraulic hopper extensions with hydraulic locking mechanisms, a large automatic tipping hopper with remote functionality, hydraulic height adjustable twin-pole magnet, and a 'one point' service area for daily maintenance checks.
Launched last year, the TRT620R tracked trommel is designed for maximum productivity and superior screening efficiency. Featuring a heavy-duty construction design coupled with high manoeuvrability, the TRT620R is well suited to a wide range of screening applications, including compost, mulch, soil, biomass, or construction and demolition waste.
The EDGE TRT620R uniquely combines a remote operated, 180° radial fines conveyor with the ability to track, screen, and stack material simultaneously. The positioning of the radial fines conveyor whether at 0° or 180° allows the TRT620R to have the same small footprint of a side conveyor trommel format but with superior product separation and reduced material contamination.
Designed to accept several other trommel manufacturers drums, the EDGE TRT620R allows operators to take full advantage of their existing drum stock as well as loaned drums from other operators and drums from equipment hire outlets. To arrange a meeting with the EDGE team at the show, email: info@edgeinnovate.com