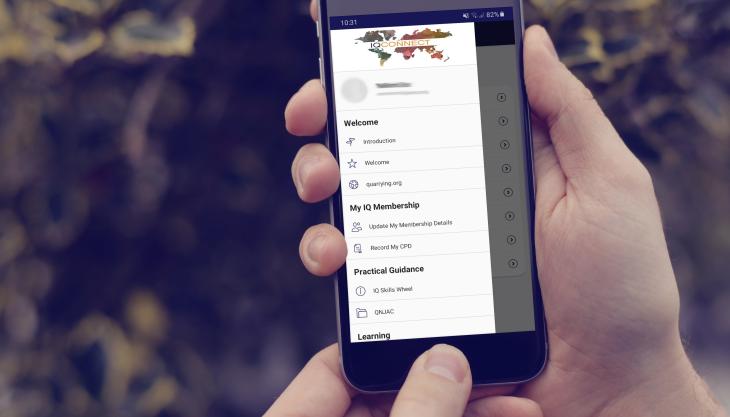 Institute of Quarrying brings forward release of new mobile CPD app to members
A NEW mobile app in development by the Institute of Quarrying (IQ) has been released early, to enable members to connect digitally with valuable online educational resources during self-isolation and social distancing.
IQ Connect brings together learning materials and practical guidance on best practice via the new, simple-to-navigate mobile phone app. The app is a useful and easily accessible pocket resource for professionals in the mineral products and extractives industries.
James Thorne, chief executive officer of the Institute of Quarrying, explained: 'Mobile technology is the perfect way to access industry information during these exceptional times. That's why we have brought forward the release of our IQ Connect app so that members can continue with their professional development with access to informative, industry-specific learning and practical resources.
'What's really useful for our members is the fact IQ Connect is a simple, single resource for recording all of your personal continual professional development (CPD), as well as for updating and storing your IQ membership details. 
'All of this builds on IQ's mission to raise standards, share knowledge and enable highly skilled professionals across the minerals extractives industry.'
The early release version of the app, which will continue to be developed, is loaded with a wide range of content that has been brought together in one place for easy accessibility. This includes Learning modules focusing on aggregate products, geotechnical awareness and restoration, as well as drill and blast, load and haul, planning and processing principles.
Detailed Practical Guidance is mapped to IQ's Skills Wheel, which provides an overview of the core skills and areas of knowledge that all employees in the mineral products industry should aim for. IQ's Skills Wheel groups core skills into Standards & Professionalism, Personal Effectiveness, Knowledge & Innovation, and Engagement, Influence & Impact.
The IQ Connect app is built on the Engagefully platform by Results Direct Mobile (RD Mobile). It is a year-round engagement and event app designed to deliver personal and relevant content, facilitate networking and action, enable a direct line of communication and amplify individual event experiences.
RD Mobile have proven experience providing learning and development apps to membership organizations and have a strong background in Learning Management Systems (LMS) and event management.
IQ Connect supports syncing across multiple devices. It is downloadable from Apple's App store and the Google App store. Search IQ Connect.