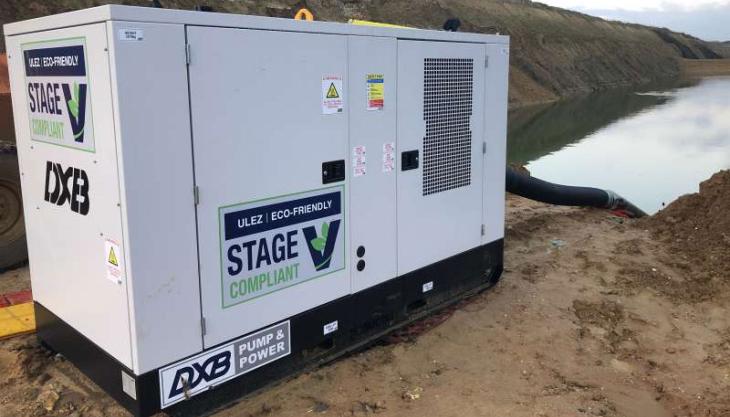 Advanced Stage 5 compliant dewatering pumpset introduced by DXB Pump & Power
DXB Pump & Power have launched what is claimed to be the most advanced general-purpose pumpset for quarry dewatering. Offering a choice of pump ends, including a 3in jetting, 6in medium head and an 8in high flow solids-handling pump, all the pumps can be mounted in an identical manner using the same canopy, complete with Stage 5 engine and a control system fully capable of operating the pump from remote locations.
Ipswich-based DXB Pump began the design of the latest DXB3 pumpset in the summer of 2020 and finalized the build and test in November before launching this month. The pumpset design was tested for almost three months before sign-off, to ensure the best possible performance.
Incorporating a renowned Cornell pump and powered by a 95kW Deutz TCD3.6L4 continuous power engine, the DXB3 is capable of pumping at flows up to 1,000 cubic metres per hour or heads up to 120m, depending on pump end, whilst consuming fuel at approximately 25 litres/h, thanks to its low operating speeds and up to 83% hydraulic efficiency.
The pumpset is also designed for the ever-increasing higher ambient temperatures seen across Europe, with the ability to operate at up to 40°C without problems, made possible by the special DXB design that separates the exhaust after-treatment systems from the main engine area and locates them in their own 'Hotbox' at the front of the pumpset.
DXB Pump's chief engineer, Rob Garnham, who was instrumental in the design of the unit, explained: 'There are many challenges today in combining the Stage 5 super-clean engines that customers are demanding with compact pumpsets that allow for ease of handling on site. By designing a 'Hotbox' into our canopy, we have removed any possibility of the pump overheating in the canopy, which was a major design consideration.'
The Deutz exhaust after treatment (EAT) system, unlike that of some other engine manufacturers, means that OEMs such as DXB Pump are able to design their complete solution around the engine/canopy design, knowing they can fully utilize the available continuous power without overheating problems.
Mr Garnham continued: 'Placing the SCR module – which, internally, can reach temperatures of more than 500°C – outside the main engine bay ensures large volumes of cooling and combustion air reaches both the radiator and air intake without being pre-heated by the EAT components. This completely removes the problem of overheating during the regen process as well as creating more space for servicing on site.'
The new pumpsets, powered by Deutz engines ranging from 30kW to 160kW, all come with some form of EAT, significantly reducing carbon and NOx levels and making them amongst the cleanest and most powerful currently available in the UK.
Simon Ruffles, owner and chief executive officer of DXB Pump & Power, commented: 'I tasked our engineering team to design and build three new compact, sound-attenuated, Stage 5 pumpsets – including a high head or high flow dewatering pump solution as well as a slurry pump, with hard iron parts in every single size – capable of achieving flows of more than 1,000 cubic metres per hour or heads of 175m, but which can still be moved around site by a telehandler.
'Not only did we achieve these objectives, the team and our valued UK supply chain developed an entirely new control panel and telemetry system that is so advanced it can tell how much AdBlue is in the tank and how much fuel is being used, and email the site manager to advise when a top up or a service is required, if we haven't already informed the user from our own remote monitoring system.'
The DXB3 95kW canopy design is able to house up to four different pump ends all directly mounted to the engine with a QR housing. Each pump end incorporates the patented run-dry Cycloseal system that removes foreign particles from the seal faces, thereby extending seal life and reducing downtime due to seal failure.