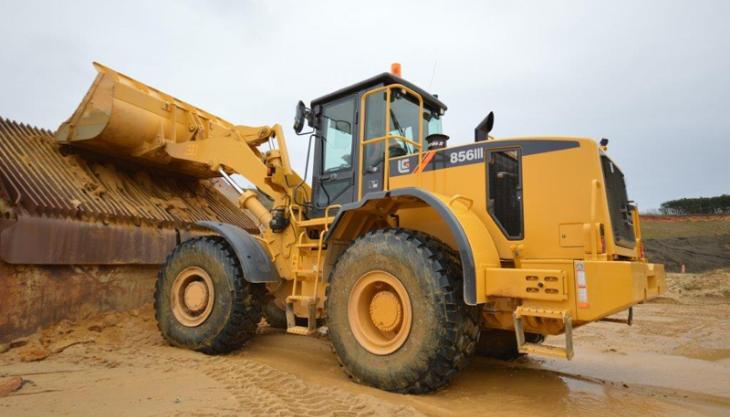 Company taking delivery of seven Chinese-built machines for use at sites along the South Coast
FOLLOWING a successful trial and evaluation period, West Sussex-based specialists in aggregates, concrete the Dudman Group of Companies, have started to take delivery of seven LiuGong wheel loaders, in a package from Portsmouth-based LiuGong dealers Construction Plant and Machinery Sales (CPMS).
In another major vote of confidence in the quality of the Chinese LiuGong product, Dudman have ordered six 856III models and one 888III model, which will be put to work at the companies various sites along the south coast of England.
A number of the new machines have already been delivered, including the largest machine in the order – the 888III, which features a six-cylinder Cummins QSM11-C335 Tier 3/Stage IIIA engine that offers a gross power output of 250kW (335hp). With an operational weight of 30,000kg and equipped with a 5.2 cubic metre bucket, the loading shovel has been put straight to work at the company's Albion Wharf facility, in Shoreham, where it's engaged in the loading of a multitude of products, ranging from ballast to Type 1 limestone.
One of the six 856 III models has been put to work at the company's Rock Common pit, near Washington, in West Sussex, where it is primarily engaged in digging out sand and loading a screening machine, in addition to other associated loading operations. Weighing 18,450kg, the machine is powered by a six-cylinder Cummins QSB6.7 Tier 3/Stage IIIA engine, which produces a gross power output of 164kW (223hp) and is fitted with a standard bucket capacity of 3 cubic metres.
All the machines have been modified by CPMS to suit the customer's specifications, including the addition of RDS Loadmaster 800i on-board weighing systems, Lincoln automatic lubrication systems, and turbo pre-cleaners on the air inductions. Other modifications include the fitment of Hardox cutting edges on the buckets, seat-belt lights, orange flashing beacons, blue strobe-style reversing lights and white-noise audible reversing alarm systems.
After some initial scepticism, operator feedback has been very good, with the majority saying they have been pleasantly surprised at just how good the machines are. The cabs on the LiuGong wheel loaders feature all the usual comforts expected on modern construction equipment, including a suspension seat, fully automatic air-conditioning, radio/USB player and a cool box.
Commenting on his decision to choose LiuGong machines, managing director Steve Dudman said: 'The team at CPMS, together with LuiGong, have brought a long-awaited range of quality heavy construction products at a realistic and competitive cost to meet the demands of current financial constraints endured by UK businesses now looking to reinvest.
'The LuiGong range of wheel loaders we have purchased so far have been highly reliable with an excellent level of power and performance and good fuel economy, and they met with great acceptance from operators for their comfort.
'We would confidently recommend the LuiGong product for evaluation by any serious purchaser, and the Dudman Group of Companies will, without hesitation, continue to purchase more LuiGong product in the future.'