Tarmac's Panshanger Park named a dragonfly hotspot by the British Dragonfly Society 
TARMAC-owned Panshanger Park, in Hertfordshire, has been named a dragonfly hotspot by the British Dragonfly Society (BDS) due to its thriving dragonfly population.
To celebrate the new accreditation, local community leaders and dignitaries attended a special event to mark the occasion. Organized by Tarmac and supported by the Herts and Middlesex Wildlife Trust and the BDS, guests were taken on a guided tour around the park's dragonfly trail.
An existing dragonfly trail has seen recent improvements, with a newly surfaced pathway improving accessibility for visitors. The extended 2.5km trail includes sights of the Kings Lake and Riverside Lake, the Rifle Butts wildflower meadow, and a viewing area over the river Mimram.
Panshanger Park is home to 19 different species of dragonflies and damselflies, such as the emperor dragonfly, ruddy darter, willow emerald damselfly, and red-eyed damselfly, making it one of the best habitats in Hertfordshire to accommodate them.
Chosen by the BDS, dragonfly hotspots are carefully selected based on specific criteria, including if there are volunteering possibilities to maintain the habitats to the best conditions and educational opportunities in the area to learn about the dragonflies and damselflies. Other requirements assess how well dragonflies and damselflies can thrive and live in these areas and specify that they must be easily accessible to everyone.
The BDS is the world's largest volunteer-led organization to specialize in the study and conservation of dragonflies, damselflies, and their wetland habitats. In 2022, Panshanger Park was put forward by Steve Brooks – from the BDS, a member of the Dragonfly Conservation Group and scientific associate at the Natural History Museum – for review by the BDS board of trustees, and as it met all the required criteria, it was selected as the next dragonfly hotspot.
Mr Brooks said: 'Panshanger Park is a great place to get up close and look at dragonflies in all their glory. The varied habitats at Panshanger support many different species in large numbers, and you never know what may turn up next.'
Alan Everard, Tarmac's head of strategic planning (south region), said: 'It's great to be celebrating being named as a new dragonfly hotspot by the British Dragonfly Society. I would like to thank our supporters and partners who have worked with us and helped with this.
'I've had the opportunity to experience the park's dragonfly trail and hope that visitors to the park will enjoy spotting the different species and exploring the trail too.'
Jo Whitaker from Herts and Middlesex Wildlife Trust and people and wildlife officer for Panshanger Park said: 'We're delighted that Hertfordshire has its first Dragonfly Hotspot at Panshanger Park, giving everyone access to see these amazing insects which have been around for 300 million years!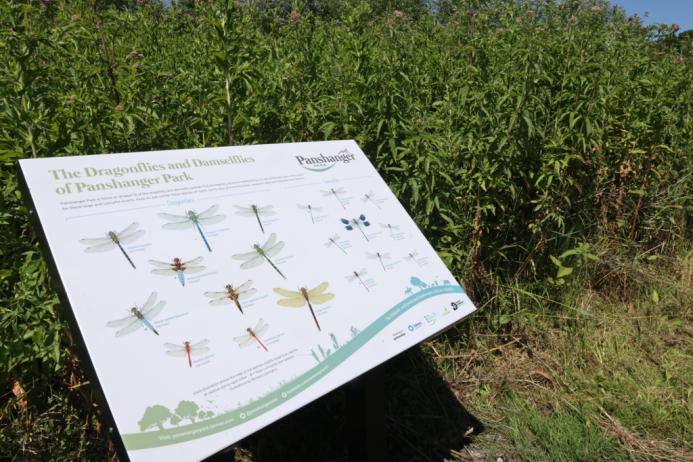 'Alongside the improved dragonfly trail, our newly installed interpretation boards provide information on these fascinating creatures, giving us all an insight into their world. Spotting dragonflies and damselflies, whilst learning more about them is something we can all be involved in, and over the school summer holidays we'll be welcoming families to pick up a dragonfly trail quiz sheet to engage our younger visitors.'
The dragonfly hotspot will be officially opened to the public on 29 July. For more information, visit: www.panshangerpark.co.uk