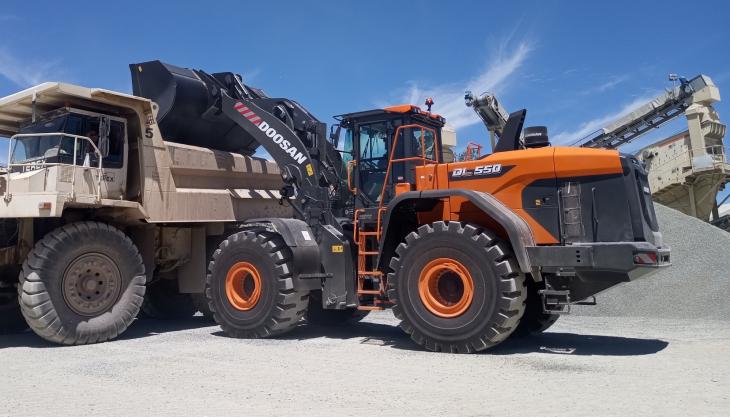 New wheel loader boosts productivity and profitability at Cantera Ofitas de San Felices
SAN Felices Quarry, in the municipality of Haro (La Rioja), Spain, has taken delivery of a new DL550-7 Stage-V wheel loader, part of Doosan's new award-winning 'DL-7' loader family. The quarry, which has been active since 1919, is noted for the production of ofita – a hard volcanic rock composed of feldspar, pyroxene, and limestone, which is used for railway infrastructure works as well as in road building and other areas of construction and general industry.
The Doosan DL550-7 loader joins a fleet of machines that load trucks with around 250,000 tonnes/annum of railway ballast and other aggregate materials. 'For this we need reliable and robust machines; we cannot stop the work,' said director Javier Fernández and quarry manager Julián Pérez.
'When the need arose to replace an old loader, we looked to reduce fuel consumption and increase productivity and profitability. For this we opted for a more modern and larger machine. The DL550-7 model was selected for its size and capabilities, which perfectly matched what we were looking for. This included having similar characteristics to the machine it replaced, which was also from Doosan, but being a new-generation model, it provides us with greater benefits, whilst the impressive breakout force allows it to handle the toughest materials.'
The DL550-7's powerful hydraulic system allows it to work quickly and efficiently, whilst its Scania DC13 engine delivers optimal power while meeting Stage V environmental regulations. This combination helps ensure optimal bucket loading with every cycle, with the lifting arm with Z-kinematics providing superior breakout forces and lifting capacities, especially for heavy materials.
The DL550-7 loader also features smooth and responsive hydraulic and auxiliary connections, and the machine is equipped as standard with a third spool with adjustable flow and hold function, which provides a constant flow for the hydraulically actuated attachments.
Javier Fernández and Julián Pérez continued: 'We saw the evolution of the new loader, with respect to our previous models. The operators who use it are delighted with this new model; they benefit from improved comfort, much smoother handling thanks to the LIS (load isolation system), and they value the precision and speed.
'The DL550-7 loader works in very high temperatures in summer, whilst in winter conditions can include extreme cold and fog, so the air-conditioned and heated cab protects the operator. Another highlight is the greater visibility from the cab, with blind spots reduced to a minimum thanks to the 360° vision camera.'
The new EMCV (Electric Main Control Valve) joystick provides the operator with smoother and more precise control of the lift arm. Features available through the EMCV system include automatic return to dig, bucket tilt and dump, and bucket pickup stop position, as well as shock prevention for increased operator comfort.
Designed for more precise control with less lever travel, the ergonomic joystick control sensitivity can be adjusted according to operator preferences using the new, easy-to-use Smart Touch monitor, which provides all the important settings and information the operator needs.
The DL-7 wheel loader range comes as standard with the DoosanCONNECT wireless fleet-management system, a tool specifically designed for the Doosan range that employs two technologies – satellite and mobile network – to provide detailed information on machine performance and safety and encourages preventive maintenance.
Messers Fernández and Pérez continued: 'For more than a decade we have always opted for new Doosan models, both loaders and excavators. We started with the acquisition of a Doosan MEGA300 loader together with an excavator in 2010, when we carried out a major upgrade of 10 machines, and after analysing various offers we have opted for Doosan once again – the brand, the service from Centrocar and Reyvena, and the durability of the machines being key factors in our decision.
'What we value most today is the reduction in fuel consumption, easy handling, comfort, safety, ergonomics, incredible visibility and great load capacity. We have gone from three or four cycles down to two cycles, thanks to the loading power of the DL550-7 with its six cubic metre bucket.'
'We currently have a fleet of 10 Doosan machines, including loaders and excavators from different eras, and despite their age, extreme operating conditions, and working hours, all of them are still active in the quarry. We have seen the evolution of many aspects of Doosan machinery and all of them have met our expectations.'