New figures from MPA provide more concrete evidence of the slowdown in Britain's construction industry 
THE latest quarterly survey from the Mineral Products Association (MPA) – covering aggregates, asphalt, ready-mixed concrete, and mortar in Great Britain – reveals a decline in actual sales volumes during the second quarter of 2023.
The drop in construction activity, particularly in new housing, along with the impact of cost inflation on other areas such as roads, has contributed to the decrease in demand for essential 'heavy-side' materials.
According to the MPA survey, which provides data stretching back more than 20 years, asphalt volumes experienced a drop of 3.1% in the second quarter of 2023, compared with the previous quarter, while primary aggregates (crushed rock, sand and gravel) declined by 3.7%, with ready-mixed concrete down by 5.2% and mortar falling by 6.4%.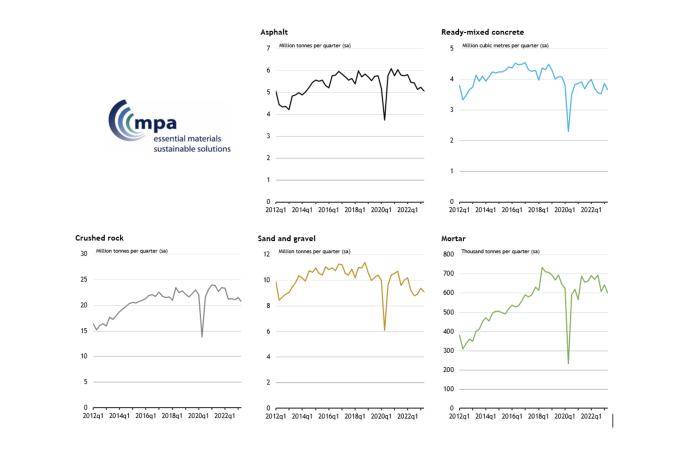 Over the past year, the data show that construction mineral products have seen a significant decline in demand, as the initial pent-up activity from the pandemic subsided and economic challenges surfaced. Although there was a robust rebound in 2021, which propelled asphalt and crushed rock sales to their highest levels in over a decade, the impact of inflation, rising interest rates, and weaker business confidence has slowed new construction project starts and led to a renewed decline in demand for heavy-side building materials.
According to the MPA, various factors have contributed to the decline in demand. Construction materials cost inflation may have slowed from a peak in mid-2022, but the cumulative effect of high costs and higher interest rates over the past 18 months continues to weigh heavily on the financial viability of projects and on housing affordability. Additionally, labour constraints throughout the construction supply chain have contributed to the overall challenges faced by the sector.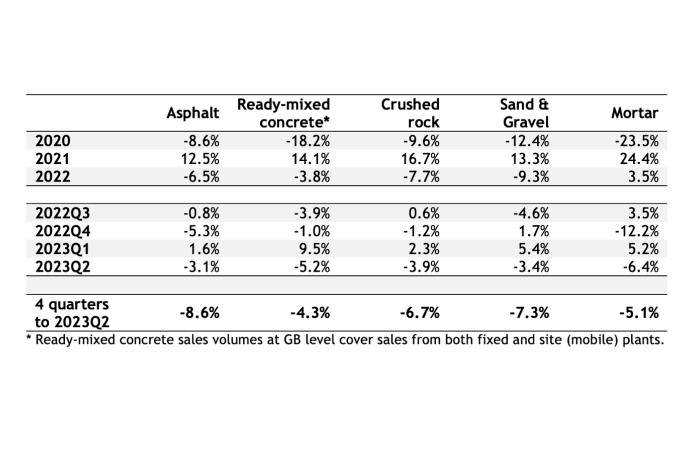 Housing
The official construction data from the Office for National Statistics indicate a moderation in construction output in recent months, with new housing being one of the sectors to experience significant decline. Mortar sales volumes, which are primarily linked to the early stages of new housing developments, saw a 5.1% fall in the last 12 months. With little sign of a revival in house buyers' and house builders' sentiment, mortar demand is expected to slow further over the next few months, despite the Government recently celebrating meeting its latest pledge to build one million new homes over this Parliament and raising aspirations to do more through planning reforms and prioritizing inner-city projects in the next.
Infrastructure
Infrastructure output has remained relatively stable, but delays and overspending in road projects have cooled demand for asphalt. Asphalt producers are at the forefront of local authorities' budget pressures, which are forcing them to scale back on local road improvement and maintenance plans. Major road projects overseen by National Highways are also heavily impacted by costs, planning delays and changes in government priorities. By contrast, major infrastructure projects such as HS2 and Hinkley Point C have continued to support the requirement for aggregates as fill materials, and for ready-mixed concrete.
The MPA survey serves as a critical bellwether of current and near-term construction trends, offering valuable insights into market activity concerning heavy-side building materials, suggests that construction output is likely to remain under pressure over the coming months. The MPA forecasts that sales volumes for all markets monitored will contract in 2023 – marking the second consecutive year of decline. It says clients in the construction sector are cautious about signing off new projects, given the uncertainties surrounding the economic outlook and the higher cost of funding due to rising interest rates.
Aurelie Delannoy, director of economic affairs at the MPA, commented: 'The latest MPA survey clearly illustrates the current challenges faced by the construction industry and its supply chain, including mineral products manufacturers. The decline in sales volumes for essential materials like asphalt, aggregates, ready-mixed concrete, and mortar reflects the slowdown in key construction sectors, including housing. As we navigate these headwinds, the industry and policy makers must remain focused on addressing longer-term challenges and seizing opportunities, particularly in delivering crucial policy ambitions for housing and infrastructure.
'However, the Government's propensity to over-promise and under-deliver presents a clear roadblock. Recent records show a pattern of grand policy statements and targets followed by repeated U-turns, project delays, and a lack of clarity on material needs related to infrastructure and housing plans – all in the context of a persistently challenging economic and political environment. Such an approach hampers investment decisions and business operations. It is high time to prioritize UK growth.'