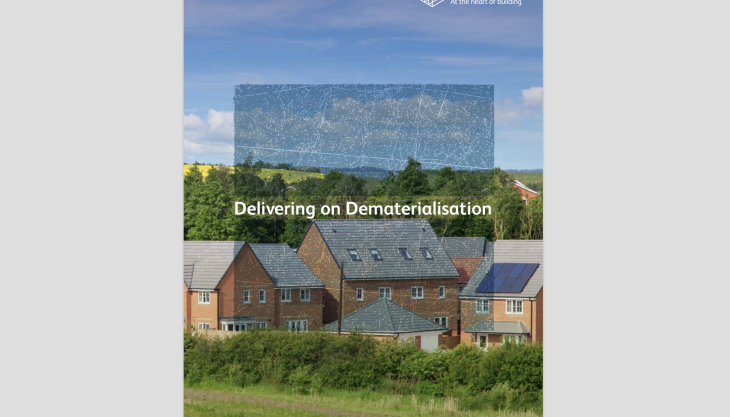 Ibstock share progress on reducing the embodied carbon of their products in new white paper
BUILDING products manufacturers Ibstock have documented the work they are doing to deliver on their commitment to dematerialisation in a new white paper aimed at informing and educating specifiers, customers, and wider stakeholders.
Titled 'Delivering on Dematerialisation', the purpose of the paper is to offer an overview of Ibstock's approach to dematerialisation, give an honest account of their progress on this work, and to inspire others in similar industries to follow in their footsteps and learn from their experience.
Ibstock's paper also explains how the company's ESG Strategy has galvanized action and accelerated their activities and investment in this area. It also covers the contextual landscape that informed the company's decision to prioritize the commitments it has made in this area as part of its ESG strand, 'Manufacturing Materials for Life'.
Ibstock say they hope that their paper will act as a useful best-practice guide for their industry peers. It includes three detailed case studies covering transformational projects in the company's brick and concrete divisions. Each explains details of the project objectives, specific technical challenges, as well as shareable best practice, in its efforts to reduce the amount of raw material used in the manufacture of its products. An account of Ibstock's successful efforts to reduce preventable plastics is also included.
Emily Landsborough, Ibstock's group sustainability advisor, believes this topic is one that deserves more attention in the construction sector and clear leadership, too.
'Our business relies on taking finite natural resources from the earth. Innovation that focuses on finding alternative materials – or using less of our existing 'ingredients', thereby reducing embodied carbon, is essential,' she said.
'However, as any building products manufacturer will testify, dematerialisation is not a simple thing to deliver. It requires time and patience and an appetite for innovation. It also requires collaboration with partners, and investment in equipment and resources – which is exactly what we are doing at Ibstock.'
Ibstock's white paper offers a detailed picture of their dematerialisation story from its start to the present day. The paper also provides an honest account of the work the company has done to date, and the work that still needs to be done. As part of their commitment to openness and transparency, Ibstock say they have included a truthful account of the challenges they have faced along the way.
'Our intention is not to provide a 'de facto blueprint' for others to follow,' said Ms Landsborough. 'More accurately, it is a good practice sharing guide that can be used by our customers, our partners, and industry peers. We also hope that our wider stakeholders, including our investors, shareholders, and colleagues, will find this to be a useful insight into the work we are doing in this area.
'We do not consider ourselves to have all the answers to dematerialisation, but by sharing an overview of our work, as well as the learnings we have gleaned so far, we hope to demonstrate industry leadership that inspires others to follow similar paths.'
A copy of the white paper can be downloaded here.