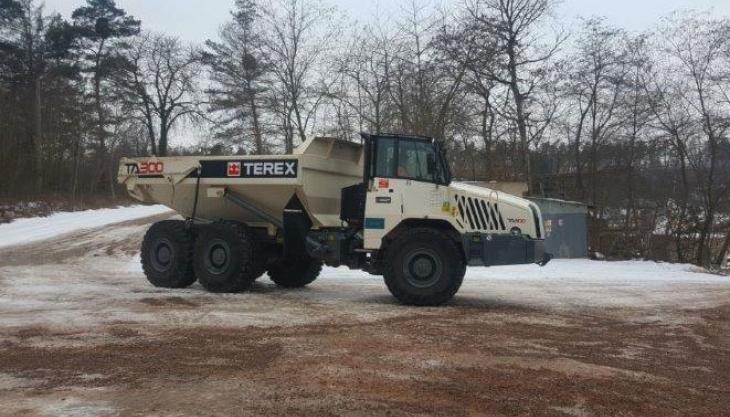 TA300 ADT helping to keep the Czech Republic's leading aggregate supplier in prime position
KNOWN for its snowy winters and warm summers, gothic castles, and long history, the Czech Republic is a natural wonder made up of rolling plains, hills and mountains.
Chief among its ancient territories is Bohemia, which is home to the rural community of Zdechovice, where a Terex Trucks TA300 is working hard to move material at a quarry for leading aggregates suppliers Kamenolomy.
Founded in 2005, Kamenolomy is a part of the Strabag SE group and have quickly risen to become one of the most exclusive aggregate producers in the Czech Republic.
With ownership of 30 quarries and five sandpits across Moravia and Bohemia, Kamenolomy provide high-quality crushed aggregates for concrete mixing plants, asphalt pre-coating plants, road construction, railway ballast and other engineering structures.
The company also prides itself on using the best equipment for its operations and decided to look no further when Terex Trucks' official dealers, AUSTRO Baumaschinen (ABM), presented the 28-tonne capacity TA300 in response to an invitation to tender for an articulated hauler.
'We chose to go with Terex Trucks' TA300 because, in the past, we've had a good experience with the brand,' said Kamenolomy engineer Pavel Houdek. 'As a company, it's important to secure a permanent increase in the scope of production to keep our customers happy, and we knew we could rely on Terex Trucks' articulated hauler to offer us maximum return on our investment.'
A good match for the Czech Republic's continental climate, the TA300's outstanding tractive effort and effective power-to-weight ratio ensure material is moved as quickly as possible in all conditions – providing excellent productivity and low cost of operation.
Built at Terex Trucks' Motherwell factory, in Scotland, the articulated dumptruck will be in operation 12 hours a day transporting granite around the quarry. With fully independent front suspension as standard, tyre/ground contact is maintained regardless of the terrain, increasing tractive effort and reducing cycle times while also providing operators with a comfortable haul.
Powered by a fuel-efficient five-cylinder Scania DC9 engine, which develops gross power of 276kW (370hp) and maximum torque of 1,880Nm, the TA300 works effortlessly on site alongside Kamenolomy's TR60 rigid hauler.
Mr Houdek concluded: 'The TA300 is simple to use and its fuel consumption is great, but another key aspect of the machine is how well ABM support it. We've had a good relationship with the dealer for five years and we're consistently impressed by the team's flexibility and willingness to help us out.'