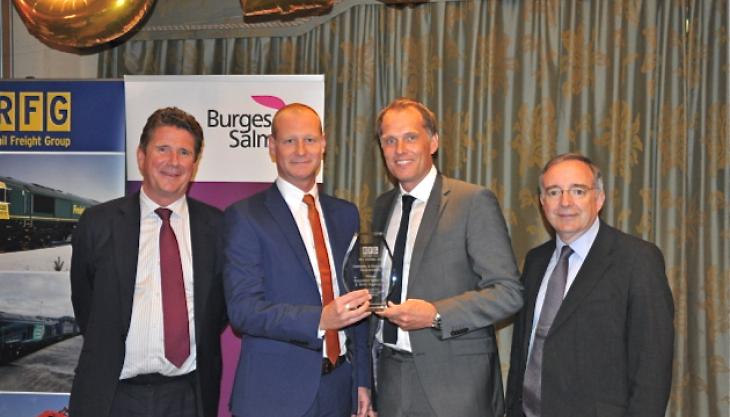 Rail Freight Group industry award for Brett Aggregates and Associated British Ports at Ipswich Port
BRETT Aggregates and Associated British Ports (ABP) have together won the prestigious Community and Environmental Responsibility category in this year's Rail Freight Group (RFG) Awards.
The two companies have worked together to increase aggregate movements by rail from the Port of Ipswich, developing a new weekly rail-based flow from the port to Watford in London that has allowed 100,000 tonnes of aggregate to be transported by rail in the 16 months between January 2016 and May 2017.
The new rail flow represents a significant benefit for the environment and community when compared with road transport. Each 1,100-tonne trainload removes nearly 40 lorry movements from the UK road system. Delivering this volume would have meant nearly 750,000 road miles, some 46,000 miles each month.
Rail Freight Group is the representative body for rail freight industry in the UK and the annual RFG Awards recognize outstanding contributions to its objective, which is to increase the volume of goods moved by rail.
Brett Aggregates operate a terminal within the Port of Ipswich where marine-dredged aggregates arrive by ship from sites off the UK's east coast. Material is stored and processed on site for delivery to customers by road, rail or sea.
Between January 2016 and May 2017, Brett Aggregates landed more than 485,000 tonnes of various aggregate and base construction materials from sustainable reserves around the UK, with no community impact in terms of noise, visual intrusion or road congestion.
'This level of benefit can only be achieved by the total integration of marine aggregate supply, port storage, processing and terminal facilities, and transport by rail to customers' premises,' explained Brett Aggregates' Eastern Area general manager, Adam Smith.
'By working closely with the team at ABP, we have been able to create these significant improvements in supply chain logistics. We are very proud to receive this joint award in recognition of the teams' efforts.'
According to Network Rail, rail freight typically produces 76% less CO2 per cargo tonne carried than road transport, so with the added benefit of delivery from source by ship to Ipswich Wharf, the environmental credentials of this supply chain are significant.
'By working closely together with our customer, we have successfully won new business to rail and to the Port of Ipswich,' said Andy Constable, ABP's head of operations at Ipswich. 'This combination has enabled a lower CO2 supply chain to be established with the real benefit of reducing congestion on the UK road network.'