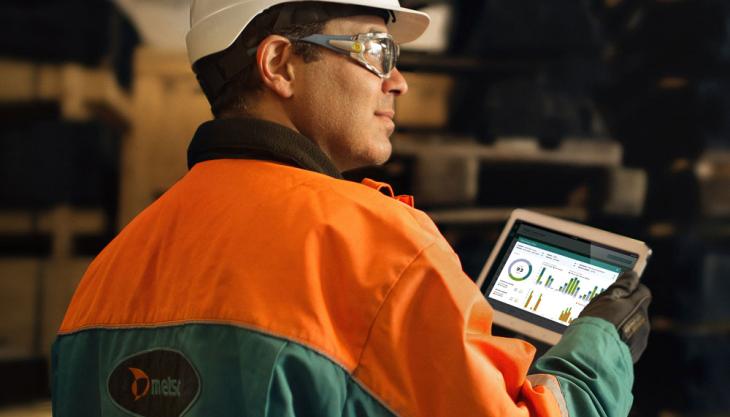 Metso introduce new digital service allowing data-driven operations and improved performance 
AS part of their Life Cycle Services offering for the aggregates industry, Metso are introducing a new digital solution to help further optimize mobile crushing and screening equipment operations and maintenance.
Metso Metrics Services – described as another step in Metso's digital development, leveraging the possibilities offered by advanced analytics and cloud-based technologies – will be launched at Conexpo-Con/Agg 2017 in Las Vegas from 7–11 March.
Mobile crushers frequently move between sites, making it challenging to track, monitor and maintain a fleet of equipment for maximum performance.
However, by way of a remote communication device mounted on a mobile crusher, Metso Metrics Services provides a dashboard view of critical operational and maintenance data – from utilization rates to production levels and fuel consumption.
Metso say that with secured access, the solution allows for data-driven decisions that impact crushing operations.
'Making the most out of your assets depends on data you can trust: Having the right information at the right time helps customers make important operational or maintenance decisions to improve uptime as well as utilization and production rates,' said Giuseppe Campanelli, vice-president of Service Solutions at Metso.
'Metso Metrics Services is designed to collect and provide this crucial data in one easy-to-use interface. Combined with the expertise of Metso's network for troubleshooting or optional assistance with analysis, the solution provides tools for continuous improvement, both in performance as well as safety and sustainability.'
As well as helping to control maintenance and inventory costs, Metso Metrics Services can help to identify underperforming assets and training opportunities.
With an equipment maintenance plan integrated into the solution, plant operators can stay on top of their equipment's needs – making it easier to anticipate the change-out of spares and wear parts.
'Metso Metrics is an excellent example of how we can help our customers take their operations to the next level with digitalization,' concluded Mr Campanelli.