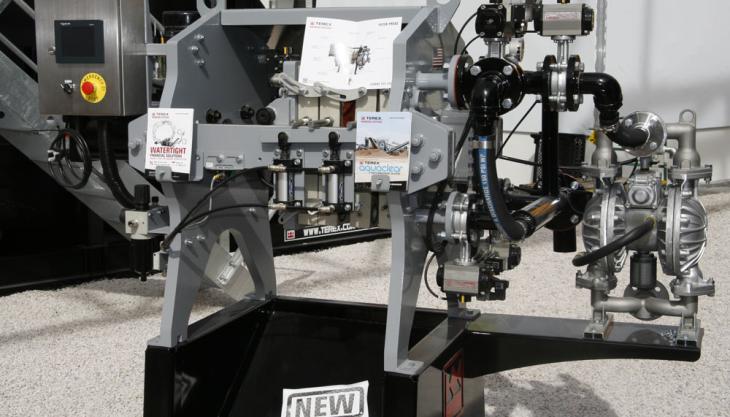 Terex Washing Systems launch new line of water-management solutions at Las Vegas show
TEREX Washing Systems (TWS) staged the global launch of Terex AquaClear water-management solutions at the recent Conexpo-Con/Agg 2017 show in Las Vegas, with business line director Oliver Donnelly flagging up water management as a significant growth sector, given the way environmental legislation is heading in certain regions of the world.
'TWS are delighted to be able to offer an end-to-end solution for washing and water management from a single supplier,' he said. 'We are launching a full range of water-management products, including clarifying tanks, flocculent dosing systems, filter presses and all associated equipment to provide a one-stop solution.'
According to TWS, effective water-management solutions are made up of three main components. For example, a flocculent dosing plant and a thickener tank can be used to recycle up to 80% of the water used in the washing process. This basic method still involves the use of ponds but on a smaller scale, as the sludge sent to the ponds is of a much higher specific gravity (1.5sg).
The third component is a filter press to dehydrate the thickened sludge even further, typically down to 25% moisture. The filter press eliminates the need for ponds as the sludge is converted into a dry material/cake that can be handled by a loading shovel and used as a lining or capping material.
TWS say they are committed to the continuous expansion of their product offering and this latest entry into water management further demonstrates the company's ongoing investment in product development.
Mr Donnelly said TWS were due to begin manufacturing the Terex AquaClear water-management solutions in Dungannon, Northern Ireland, later this year, working alongside strategic alliance partners Valley Equipment Co., located in Portland, Oregon, in the US.
'We're handling enquiries for AquaClear from Europe and North America. I think it's likely that the first installation will be a European one,' he commented. 'Through our strategic alliance, we can send a fully built filter press, rather than its component parts in containers. With Valley Equipment, we're working with partners who have been in the industry for many years.'
As part of the AquaClear water-management solutions offering, TWS are appointing a dedicated technical team, including a product manager, engineers and applications specialists, along with investment in a new laboratory designed for materials testing and sample pressing.