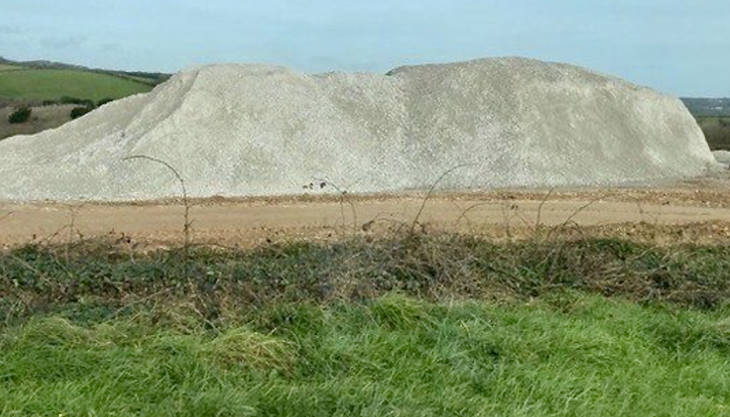 Cornish home-produced materials are at the core of National Highways' A30 road upgrade
A BY-PRODUCT from Cornwall's china clay mining industry is currently playing a big part in the construction of the county's major A30 Chiverton to Carland Cross upgrade.
Sustainability and reducing the carbon footprint are key drivers behind construction of the 8.7-mile dualling scheme, and to that end contractors Costain Jacobs and Aggregate Industries are tapping into natural Cornish materials.
China clay residue, known as stent, would normally have no use and be left in white spoil heaps, scarring the local landscape. Instead, the material from the Littlejohns Pit, near St Austell, is being processed into sustainable secondary sand and aggregate for construction use.
Just down the road, this is now being used as an engineering alternative across the A30 project, not only reducing embodied carbon, but also saving on the transport carbon cost.
Compared with the 5kg carbon dioxide equivalent (CO2e) per tonne carbon emission of virgin aggregate, the locally imported material is around 2kg CO2e per tonne, representing a reduction of around 3kg CO2e per tonne of aggregate used.
In addition, Aggregate Industries have invested over £4 million in nearby Melbur Quarry to produce more carbon-friendly warm-mix asphalt for the new road surfacing.
Fully approved by National Highways, warm-mix asphalt is produced at temperatures up to 49C lower than that used for traditional hot-mix asphalt, so less energy is needed in the heating process, meaning less fuel and a reduction in the plant's carbon footprint.
Costain project director John Lee said: 'It's been good to tap into local skills and materials. We're making excellent progress with the construction works and are on course for the new road to be open to traffic in winter 2023.
'We're also committed to working with National Highways and its Net Zero Plan, and the use of warm-mix asphalts and china clay by-products is playing a big part in the A30 helping to reduce the carbon impact of construction.'
Nick Simmonds-Screech, National Highways project director for the A30 scheme, added: 'We all have a part to play in reducing our carbon footprint and adapting to climate change, and modern road-building methods are certainly playing a part in this.
'The move towards warm-mix asphalts allows us to not only achieve huge efficiency savings, but also reduce carbon as we strive for net zero by 2040.'
Roads Minister Baroness Vere said: 'The A30 Chiverton to Carland Cross upgrade will reduce congestion, improve journey times, and provide much-needed connection for local businesses.
'By using natural Cornish materials, we are also ensuring the scheme has a much lower carbon impact and provides a further boost to the local community, which is exactly the kind of innovation we want to see as we strive towards a net-zero road network.'