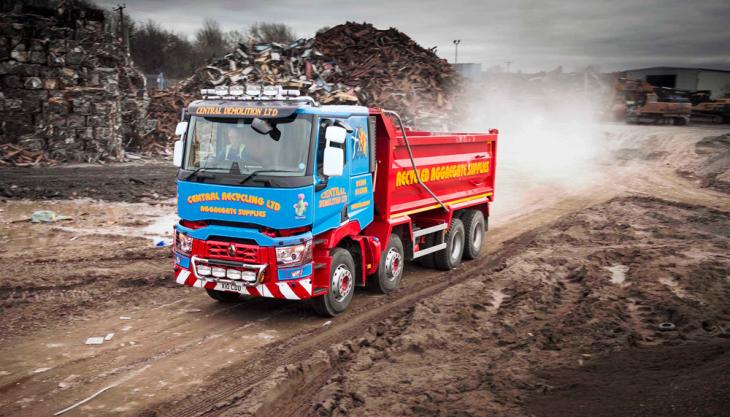 Scottish recycling operator takes delivery of two 32-tonne high-spec Range C430 RK trucks  
CENTRAL Demolition have bolstered their 30-strong vehicle fleet with the purchase of two Renault Range C tippers. Supplied by Renault Trucks Scotland, the two new Range C430 RK units feature Weightlifter Muckaweigh Hardox build tipping bodies, along with Kelsa top/bottom light bars, a comfort pack, a vertical exhaust and a night and day cab. 
The Renault Range C tippers will be working across Scotland and beyond: delivering   recycled aggregates to customers; and transporting demolition rubble to Central Demolition's Bonnybridge yard for crushing and washing. All crushed material is graded and sold on to the company's customers.
Commenting on the recent Renault Range C purchase, Ross Craig, owner of Central Demolition, said: 'Over the past couple of years we have won several major contracts, invested significantly in all areas of our business and received widespread recognition for our efforts. When we needed new additional vehicles to keep up with the demand, I turned to the team at Renault Trucks Scotland who put together an impressive package to suit our needs.'
He added: 'We've previously used Renault Landers and have been extremely impressed by their robustness and overall performance, so the Range C was the natural progression for us. Access in and out of demolition and recycling sites can be tricky, so we needed tippers with exceptional mobility to give us easy access to all types of terrain. We've found the Range C to be well up to the challenge; it's a well-constructed vehicle that is very well accepted by our drivers and provides good value for money.'
Angus McIntosh of Renault Trucks Scotland said: 'It's been great working once again with Central Demolition and I'm delighted that the drivers like the Range C trucks. I hope we can continue to impress them with our vehicles as well as the crucial back-up service and be one of their first ports of call with any new vehicle requirements in the future.'