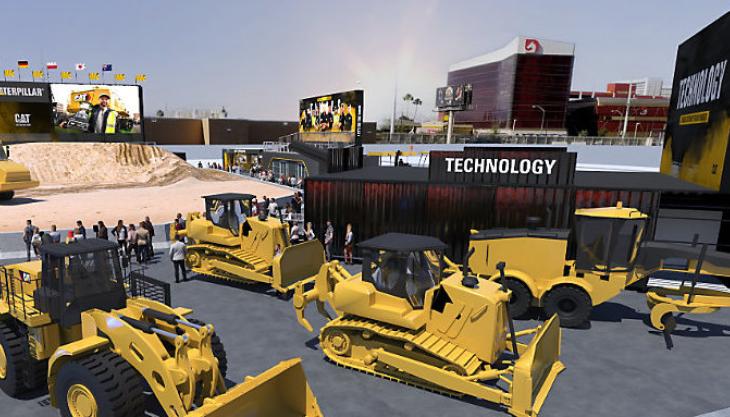 Company to showcase latest equipment, technology and service solutions at triennial trade fair
THE stage is set for Caterpillar's largest exhibit to date at Conexpo-Con/Agg 2023, where the company will be highlighting its latest products, services, and technologies in a 70,000 sq ft outdoor demonstration arena known as 'Operator Stadium'. 
There will also be distinctive Caterpillar Technology, Services, and Sustainability hubs to provide visitors the opportunity to look beyond the equipment for ways to increase operating efficiencies and improve machinery uptime.
The company will be exhibiting no fewer than 30 machines (at the expo's Festival Lot), including brand-new model unveilings and battery-electric model prototypes. Conexpo attendees will also be able to see two main Caterpillar equipment demonstrations during the show: one focused on the latest Cat Technology; and the other highlighting the company's full equipment line-up.  
Complementing the product and innovation demonstrations, Caterpillar will be providing daily spotlight demonstrations that will delve into key industry topics, such as improving fuel efficiency and jobsite efficiency, the evolution of technology, and convenient, scalable solutions for all customers.
New machines on display will include the mid-sized Cat 950 wheel loader, which offers high-level performance and simple technologies to help boost operator efficiency and increase productivity, whilst extending service intervals to contribute to lower maintenance costs.
Visitors to the Caterpillar booth will also be given a preview of the company's Next Generation Cat 926, 930, and 938 compact wheel loaders (due for production in late 2023), which will feature a reimagined operator environment, extended service intervals, and new technologies designed to make manoeuvring easier.
Also included in the show line-up will be the half-lane Caterpillar PM822 cold planer which comes equipped with the Cat Grade system and latest System K rotor options for enhanced performance, productivity, and cutting precision.
With a key focus on delivering exceptional mobility and easier transportation, the Cat AP455 Mobil-trac compact asphalt paver is suitable for both large and small contactors when paving streets, car parks, and rural roads. The machine features a unique three-dimensional screed plate with modular fastening system that improves mat density and smoothness, whilst reducing screed plate change time by up to 80%.
As well as showcasing new construction equipment at Conexpo, Caterpillar will also be presenting their wide and rapidly growing portfolio of high-efficiency industrial power solutions. Key exhibits in this segment will include the unveiling of a new high-power internal combustion engine, as well as cutting-edge lithium-ion battery technologies under development.
Engines on display will include the C3.6 IPU, C7.1, and C9.3B models, which meet EU Stage V/US EPA Tier 4 Final exhaust emissions and are all compatible with biodiesel (eg hydrotreated vegetable oil) to help customers reduce their carbon emissions and shift towards more sustainable operation.
Show attendees at the Caterpillar booth will have the opportunity in the Technology hub to experience a range of new and existing Cat technologies, including VisionLink, Cat Command, VisionLink Productivity, Cat Detect, Cat Grade, and Cat Payload.
Forming the centrepiece of the Technology hub will be a 'Looking Glass' cube, which will display and interactively showcase the five key capabilities of the new Cat VisionLink application – geofence and location, fuel theft alerts, diagnostics, idle time/fuel burn, and maintenance.
Caterpillar will also be using this year's Conexpo-Con/Agg exhibition as a venue to find the best equipment operator for their 2022-2023 Global Operator Challenge. Nine finalists will be taking part in the competition to demonstrate their advanced skill, precision, and stamina in hopes of being named the Global Operator Challenge Champion, with the winner to be announced on 14 March.