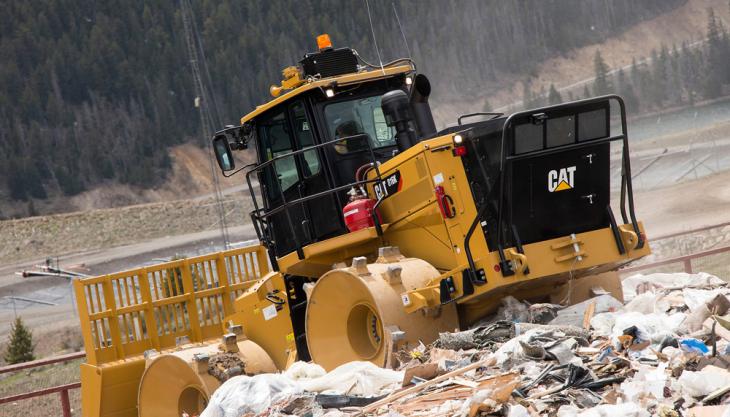 Latest machine provides optimum performance, lower-cost operation and extended service life
BUILDING on the established performance, durability and reliability that the 816 model has demonstrated since 1972, the new K-Series landfill compactor has been designed with a host of new features, including single-lever steering, a pressurized cab, an engine that meets Tier 4 Final/Stage IV emissions standards and wheel/tip configurations offering extended service life.  
The 816K model has huge robotically welded main structures with a full box-section rear frame that resists torsional shock and twisting forces, while its heavy-duty steering cylinder mounts efficiently transmit steering loads into the frame and an axle-mounting design has been optimized for increased structural integrity.
Three new wheel and tip configurations allow the landfill compactor to match the given application. The paddle tip reduces weight and provides high performance with reduced fuel consumption, while the plus tip option provides increased side-slope stability and the combination tip offers an effective compromise of performance, fuel economy and side-slope stability.
The 816K's Cat C18 ACERT engine uses the latest, advanced technologies without interrupting the machine's work cycle. These include: the company's next-generation high-pressure/common rail fuel system that delivers fuel in a precise series of 'micro bursts' during each cycle, providing extremely efficient combustion; and control systems that slows down the engine's average working speed for reduced heat loads and added fuel efficiency. 
The 816K also comes with Cat's Advanced Productivity Electronic Control System (APECS) which has been designed to enhance transmission-shifting performance. 
For operator convenience and comfort, the machine features Cat's Steering and Transmission Integrated Control (STIC), which combines steering and transmission control (directional and gear selection) into a single lever. Simple side-to-side movements of the low effort lever provide precise steering movement through 42° of left/right articulation. The left pedal serves as a brake, transmission neutralizer and decelerator that overrides the speed setting of the engine. 
For optimum efficiency and productivity, the 816K compactor is equipped with Cat's Vital Information Management System (VIMS), which notifies operators and engineers about potential mechanical issues, preventing unscheduled downtime. 
The machine also boasts Cat's compaction control system which measures compaction values and provides 3D pass-mapping guidance that indicates when layers have reached optimum density. Such mapping helps eliminate voids, optimizes cell space and documents results.