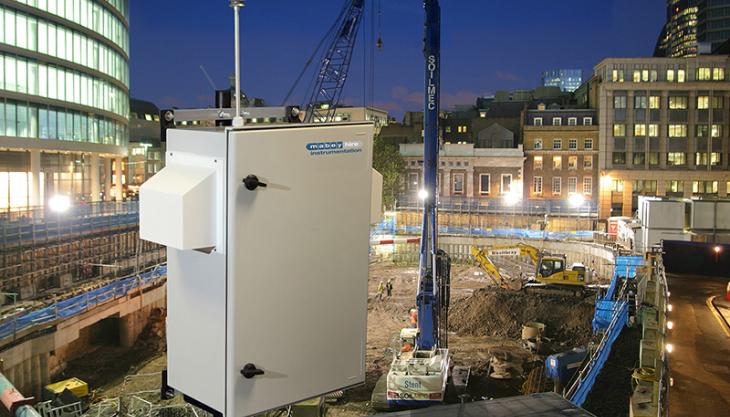 Designed to provide remote online monitoring of noise and dust emissions to ensure compliance with regulatory limits
CASELLA have announced their Boundary Guardian monitoring system is now available for hire in the UK via an exclusive partnership with Mabey Hire's Instrumentation division. The innovative web-based remote system is said to be the first simultaneous multi-parameter dust, noise, wind speed and direction monitor from a single manufacturer in the UK.
Designed for a wide range of applications, the Boundary Guardian ensures compliance with regulatory limits, including Section 61 restrictions and PPG24 compliance on construction or demolition sites.
The monitoring system complements Mabey Hire Instrumentation's expanding range of equipment and provides remote, web-based structural conditional monitoring for the construction industry in both permanent and temporary conditions.
Real-time data from the Boundary Guardian can be accessed through any web browser at any time, while reports can be produced to ensure regulatory compliance over a broader period. The system also features a local alarm function that emails site managers if safe dust or noise limits are exceeded.
The Boundary Guardian utilizes proven measurement with accuracy and sensitivity. It has been designed to report on noise parameters, including: LAeq; LAmx; LA10 and LA90; particulate levels PM10, PM2.5 or TSP to a sensitivity of 1ug/m3; and wind speed and direction accuracy of +/-2%.
The system only requires fixing points and a power supply for installation, has minimum maintenance and features a unique filter that allows for on-site calibration of dust.
'Because it allows customers to monitor site environments remotely, the Boundary Guardian is a perfect fit for Mabey Hire Instrumentation's range,' said Chris Carter, commercial director of Mabey Hire.
'The system is a great tool for the construction industry including demolition, waste transfer and roadside monitoring.  It gives site and works managers total peace of mind that they will be informed of issues so they can take action and avoid costly disruption and problems. Furthermore, if complaints are made about noise or dust on site, the Boundary Guardian gives them the data to prove compliance with regulations.'