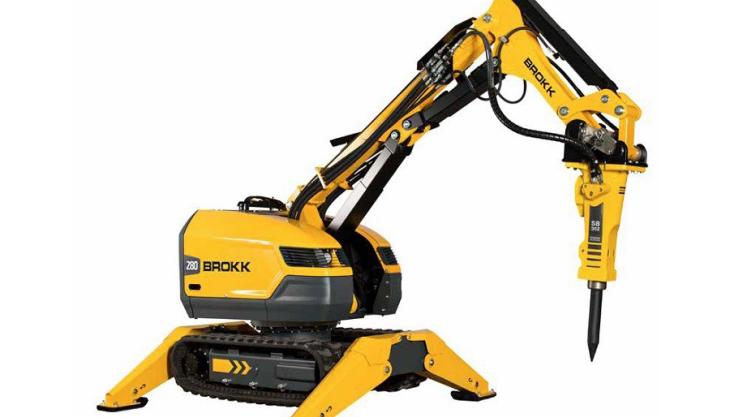 Latest 280 unit is more rugged and provides up to 25% more power than its predecessor model 
BROKK have launched their new 280 remote-controlled demolition machine, which features more power than its 260 predecessor and includes the company's latest SmartPower electrical system and additional robust parts/components for extra durability in tough environments. 
By generating up to 25% more breaking performance and delivering a combination of impact power and blow frequency over its predecessor, the Brokk 280 provides a significant boost in productivity.
And it does this without sacrificing any of the compactness, precision and flexibility for which Brokk machines are renowned for. The intelligent Brokk SmartPower system – which features hardened components and fewer moving parts – optimizes machine performance based on a number of factors, including power supply quality and ambient temperature. 
SmartPower, for example, senses when a power supply is poor/faulty, making it suitable for generators or unreliable power supplies. The electrical system can also be set to work on worn fuses.
Thanks to the SmartPower unit's ability to monitor temperatures of electric and hydraulic systems, it can track the power usage and adjusts the 280 unit to use more power in cold working environments or vice versa in hot environments. 
This eliminates the need for automatic shut-off as a result of overheating because the machine's temperature is controlled. The Brokk 280 also boasts a 60% increase in cooling system capacity over the Brokk 260 it replaces.
In addition to improvements to its overall power and electrical systems, the Brokk 280 features upgraded durability. The machine sports a new design that adds hardened parts and details to almost the entire unit, including LED headlight protection, reinforced machine corners and a new steel grey colour coating to add an additional level of resistance to dirt and scratches.
The remote-controlled demolition machine has been designed to accommodate the same variety of attachments as the 260 model, including: breakers; scabblers; buckets, grapples; drills; shotcrete nozzles; and rock splitters. 
The new 280 model forms part of Brokk's upper mid-range of core demolition equipment and joins a number of recently introduced models, including the Brokk 120 which is said to be the world's smallest diesel-driven demolition machine.