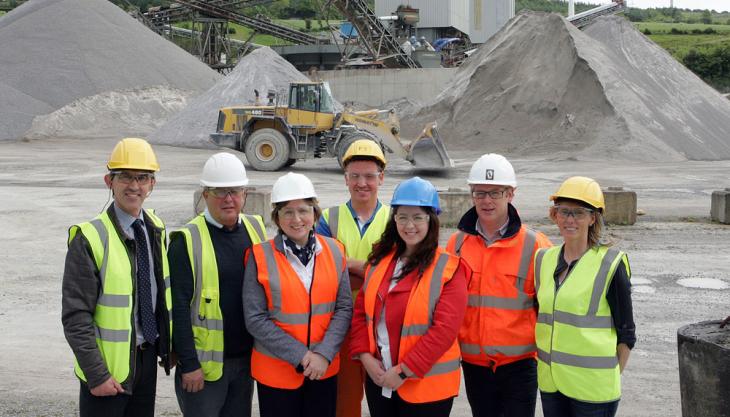 QPANI and local building materials firms working together to offer 'golden' apprenticeship opportunities 
EIGHT local companies are providing nine apprentice places for young people in Northern Ireland. The apprenticeship opportunities are available through the Level 3 Gold Construction Products Engineering Apprenticeship scheme. The apprentices will study a BTEC Level 3 National Diploma at South West College or Northern Regional College while in employment from day one. 
According to the Quarry Products Association Northern Ireland (QPANI), the opportunity to 'earn while you learn' is highly sought-after by employers, as apprentices are provided with the opportunity to work in industry while simultaneously gaining the technical knowledge at college. This avenue is becoming an increasingly important method for local companies to build talent pipelines for their businesses.
Employers Acheson & Glover, Conexpo, F P McCann, McQuillan Companies, Northstone, Quinn Building Products, Patrick Bradley Quarries and Tracey Concrete – in partnership with Quarry Products Association Northern Ireland (QPANI), South West College and Northern Regional College – have collaborated to develop the Construction Products Engineering Apprenticeship. The initiative not only provides high-achieving young people with a unique opportunity to build a successful career in a diverse sector, but it is of regional significance for the sector as recognized by the Institute of Quarrying.
Gordon Best, regional director of QPANI, commented: 'The quarry products industry is an economically important sector, with an annual turnover of approximately £650 million supporting a workforce of 5,600. This GOLD standard apprenticeship provides young people with the opportunity to enter education and employment simultaneously, and build meaningful and sustainable careers in our progressive industry.'
David Johnston, secretary of the local branch of the Institute of Quarrying, added: 'As a professional body, the Institute of Quarrying was formed to develop education and professionalism within the industry. With an ageing demographic in the sector, it is vital that the industry attracts young people at all levels.  
'It is also important that we offer good training, present career paths and working conditions that recognize the skills needed within the industry. Providing a structured training programme with recognized qualifications is the first step to meeting the industry needs of tomorrow.'
The Level 3 Gold Construction Products Engineering Apprenticeship scheme is open to those aged 16-years old or over, who hold or will hold six GCSEs at grade A-C on entry, including English, Maths and a Science- or Technology-based subject in September 2017. Enrolment on the apprentice programme is a three-stage process, which includes an application form, aptitude test and an interview.