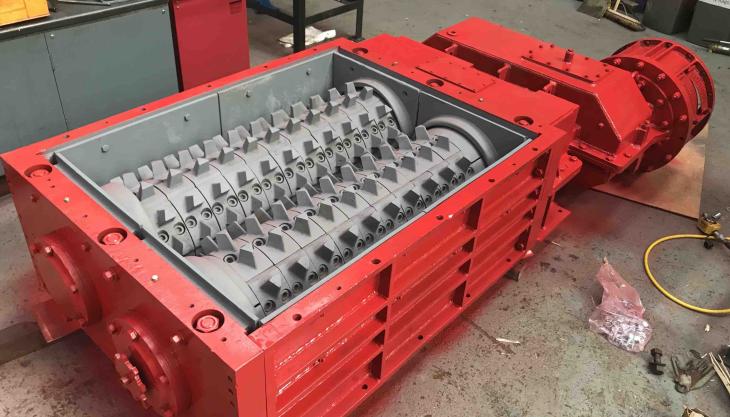 Repair and refurbishment: Dana Brevini's Andrew Baggaley highlights the value of a combined approach
WORKING across sectors as varied as quarrying, marine and food manufacturing, Dana's servicing team with its 30-plus years of engineering experience was recently called upon to bring its gearbox expertise to the repair and refurbishment of a brick crusher used by one of the UK's largest brick manufacturers.
Explaining the engineering problems with the existing crusher, Dana Brevini Power -  Transmission aftermarket manager Andrew Baggaley said: 'The equipment consisted of a conventional gearbox with a specialist crusher frame consisting of a pair of contra-rotating shafts clad with picks.
'When functioning correctly, material is fed into the in-running gap and is broken down into smaller pieces. The gearbox drives the lead shaft and two spur gears synchronize the pair sharing the power, but when our team examined the unit, we found that several major parts had been destroyed. 
'The driven crusher shaft had lost the splined interface with its timing gear. The shaft itself is a large piece of steel with a lot of machined features – an expensive item to replace, and so we were keen to save what was an otherwise serviceable part. To do so, we decided on a keyed fit with three keys at 120 degrees and an interference fit.
'The timing gears were worn, but we were able to take the secondary item and turn it to its better flank and reuse it. The replacement for the scrapped item was made to suit the centre distance and modified to limit the backlash that would be caused by wearing it in with its mate.
'In addition, the whole interface between the output shaft and the crusher was badly worn, requiring re-boring and new oversize bearing cassettes to the driven end of the crusher frame.'
For this project, as with all work undertaken by Dana SAC UK's servicing team, the engineers focused on minimizing disruption to and delays in the end-use manufacturing process. Reusing parts where possible meant cost was kept to a minimum and unnecessary manufacturing delays were avoided.
Similarly, where replacement parts were required, having an in-house manufacturing facility allowed Dana's engineers to supply them to the customer's site in a timely manner.
Mr Baggaley commented: 'With this project, there were a range of issues with the original parts – due to age and wear – and some of these were potentially very expensive for the customer.
'Our approach is always to start with the customer's business needs and adapt our solution for each project. The outcome we achieved for the customer – a mix of refurbishment and replacement ¬– gave them the best possible solution with minimal disruption.'