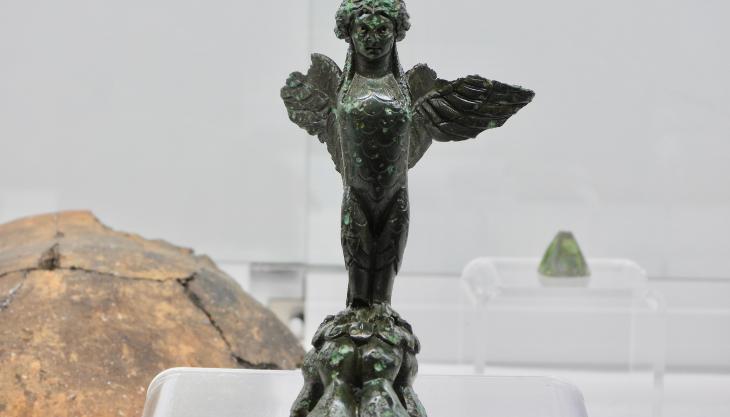 Local museum hosts temporary exhibition of findings unearthed at Brett Aggregates' Brightlingsea Quarry 
IMPORTANT archaeological artefacts unearthed at Brett Aggregates' Brightlingsea Quarry, in Essex, have recently been exhibited at nearby Brightlingsea Museum.
The archaeological study phase is an essential part of the pre-works before a quarry becomes operational, sometimes discovering notable historical finds. This was the case several years ago at Brightlingsea Quarry, where excavation works unearthed an assortment of valuable artefacts, including some dating back to Roman and Anglo-Saxon times.
One of the most important finds by Colchester Archaeological Trust was a leaded-bronze 'harpy' figurine, believed to be made in southern Italy sometime in the early-to-mid 1st century. Experts claim that its design reflected the new style of material culture carried over to Britain following the Roman conquest.
'The archaeological potential of this land was known before we started considering a development scheme,' said Brett Group planning director Simon Treacy. 'The finds we encountered during the extraction phase were particularly interesting, especially those from the Roman era.
'These findings are now being housed at Colchester Museum, but nearby Brightlingsea Museum was really interested in displaying one in particular – the Roman 'harpy'. This is a rare find, quite well preserved, and fits in with the area with its rich history from the Roman era.'
Sponsored by Brett Group and supported by the Colchester Archaeological Trust, Brightlingsea Museum hosted a temporary exhibition, offering an insight into the early settlements and their artefacts.
A preview event was joined by renowned archaeologist Ian Meadows, who was able to offer his expert perspective on the findings, and information boards detailing some of the discoveries were also displayed around the exhibits.
Other significant finds included an iron sickle and pyramidal mount, both intact and from the Anglo-Saxon period. The mount is believed to be from a decorative fitting on an early Anglo-Saxon sword, indicating a person of high status.
Additional discoveries around the quarry have helped paint a picture of the different peoples that once called the land their home. This includes evidence of 14 Anglo-Saxon huts, along with large amounts of pottery and loom weights – rings made of clay to hold bundles of thread.
Mr Treacy added: 'We normally organize exhibitions, school visits, and publish material as part of the educational programme around local archaeological finds at our quarry sites. In collaborating with Brightlingsea Museum, we were really pleased to have these finds being displayed at this open day. The event was very well attended by members of the community, many of whom were eager to see the Roman harpy in person.'