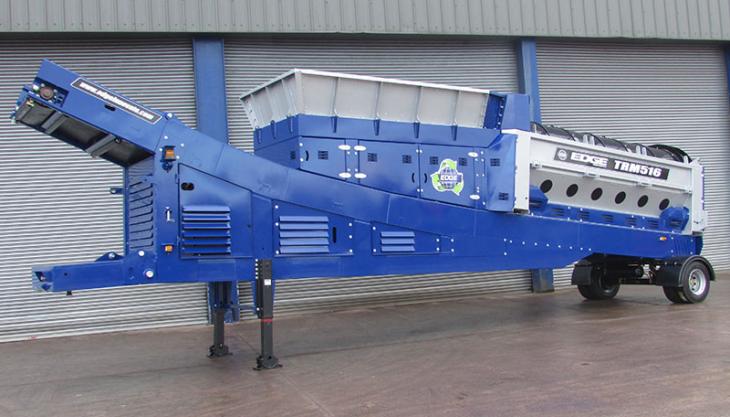 Edge Innovate launch new series of 16ft mobile trommels at recent Global Dealer Open Day
EDGE Innovate's Global Dealer Open Day at the company's headquarters in Co. Tyrone, Northern Ireland, on 16 January attracted more than 80 guests from 20 countries and saw the unveiling of a new addition to the company's product portfolio – the TRM516 mobile trommel.
With numerous screens and drum types available, the TRM516 series provides high levels of flexibility and caters for a wide range of applications, ranging from aggregates to skip waste management and the processing of industrial and demolition waste.
Designed for fuel efficiency, low operating costs and ease of transport, the TRM516 boasts a 16ft long drum, four-wheel direct-drive system, hydraulic variable-speed control drum and feeder conveyor with load-sensing controls. Optional oversize and radial fines conveyors are also available.
Speaking at the TRM516 unveiling, EDGE Innovate's managing director, Darragh Cullen, said: 'Numerous dealers and customers have expressed interest in a trommel of this size and spec, and over the past couple of years such requests have increased. There is a huge market for high-performance trommels – the success of our 622 tracked and wheeled trommel is evidence of that.'
Key design features of the TRM516 series include an overload-sensing system using pressure transducer technology. Hydraulic pressure used to drive the drum is constantly monitored and if it is too high, the feeder slows down automatically. If the pressure is still too high, the feeder will slow down again to an eventual stop. Once the pressure in the drum begins to drop, the feeder will speed up again automatically.
Another key design consideration was the fines conveyor arrangement. EDGE say that by engineering a very compact end-conveyor machine, they have retained the benefits of a side-conveyor product with all the advantages of an end-conveyor offering, thereby giving the customer the best of both worlds. For those users who require a 90° output conveyor, the radial conveyor can be set at 90° to either the left or the right.
The TRM516 trommel is the first new product to be launched by EDGE Innovate in 2015 with further new additions expected throughout the year, including a tracked version of the TRM516.
Other products from the EDGE Innovate portfolio that were on display at the recent open day included: the recently introduced RTU220 radial truck unloader; the newly upgraded RS1500 roll sizer; the EDGE Slayer/Shredder XL basket system; the FMS fines plant; the RTS radial track stockpiler series; and the LTS low-level track stockpiler series.
Catherine McKernan from EDGE's marketing department said: 'Overall, 2014 proved to be very successful with the EDGE brand becoming increasingly recognizable across the industry. Some 302 units were sold into 31 different countries and we are fully committed to building upon this in 2015, alongside our dealers who we will continue to support throughout.'