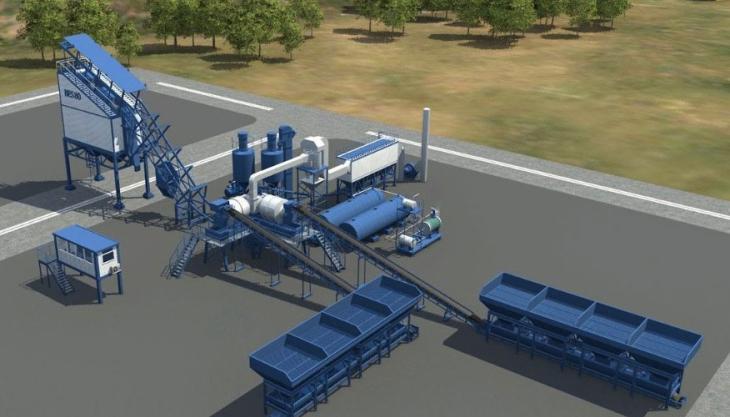 Berkshire Engineering Supplies introduce three new low-cost batch-mix asphalt plants
BERKSHIRE Engineering Supplies Ltd (BES) have developed a new range of low-cost asphalt plants that are said to provide an economical alternative for the production of a variety of hot- and warm-mixed asphalts for all types of road building and road maintenance projects.
The compact design of the new asphalt plants will, say BES, provide a viable solution for many smaller producers wishing to enter into the asphalt production market, or for larger producers looking to complement their existing installations.
The new asphalt plants are available in three sizes – the BES Mini (15–20 tonnes/h), BES40 (25–40 tonnes/h) and BES80 (65–80 tonnes/h), all of which are fully automated and include all the elements needed to produce high-quality hot-mixed asphalts according to the relevant standards.
The BES Mini asphalt plants are pre-wired and built on their own steel foundations, providing a quick-to-erect, easy-to-install solution for smaller projects, utility and maintenance schemes, or for supplying the local collect market.
The larger BES40 and BES80 plants are also suitable for small-to-medium sized projects or for supplying the local collect market, although their production outputs are considerably higher and both plants also include 60 tonnes of hot storage (two x 30 tonnes) to cater for early morning demands etc.
Moreover, the BES40 and BES80 plants can be configured to suit individual requirements using a variety of available options, including an asphalt recycling solution.
Berkshire Engineering Supplies say the mix-and-batch design of the new BES asphalt plants provides an economical and efficient solution for hot-mixed asphalt production, as the drying and mixing is performed batch by batch, thereby minimizing any waste and reducing costs.
The plants can also be brought up to temperature very quickly, allowing them to be operated on an as-and-when-required basis, thereby significantly reducing costs compared with conventional asphalt production methods.