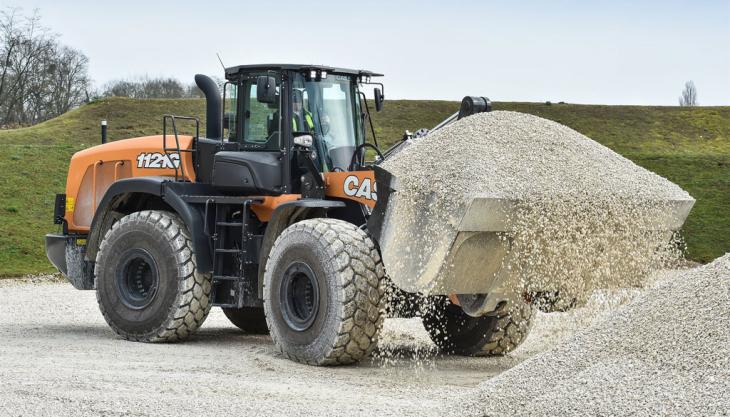 Wide range of new machines on display to reflect customer-centric, applications-based ethos of the brand 
HERITAGE and innovation will be at the heart of the CASE stand, with a strong line-up of products for quarrying, recycling and road construction. Reflecting the company's approach to providing solutions for customers' specific requirements, visitors will experience an application-based layout of the CASE stand at bauma 2019.
Quarrying, recycling, urban construction and road-building will each have a dedicated area, with CASE showcasing a total of 15 machines and sister brand Iveco displaying four vehicles. The CASE products and Iveco vehicles will combine to provide a celebration of the CNH Industrial brand – past, present and future.
In the quarrying section of the stand will be the 1121G wheel loader, CX300D excavator and Iveco Astra HD9 truck. 
The 1121G loader is powered by a Stage IV-compliant FPT Industrial engine without the use of a diesel particulate filter (DPF), delivering best-in-class, high-torque performance at low rev/min, without the need for an extra cooling system. The innovation continues internally, with a one-piece curved windshield and rear-view display providing enhanced operator comfort and visibility.
According to CASE, an electronically controlled pump, a larger main valve and multiple hydraulic sensors on the CX300D machine delivers 6% greater breakout force, making it suited to the challenges of a quarry. Further enhancing the excavator's credentials in this area are its advanced sensors. These continuously monitor the nature of the work being carried out and, automatically, respond with the required amount of hydraulic pressure.
CASE will be celebrating the 50th anniversary of their skid-steer loader at bauma 2019. The original 1530 Uniloader from 1969 will take its pride of place on the stand.
Several operator schemes will also be unveiled at the show to celebrate the CASE operator family and reward them for their loyalty and commitment to the brand. These are all part of CASE's mission to build a community around the people behind their machines. 
In addition, celebrating its own 10-year anniversary, the CASE European Rodeo Challenge will be coming to bauma 2019 with a specially designed game on the stand. Operators are invited to take part in this daily competition to show their skills and the manoeuvrability of the CASE CX145D excavator.