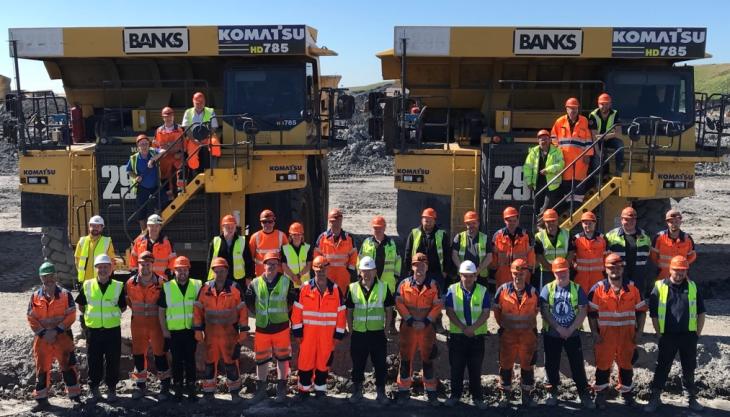 Shotton surface mine team logs 500,000h since a 'lost-time' injury resulted in time off work
THE 120-strong operations team at Banks Mining's Shotton surface mine is celebrating a major safety milestone having logged 500,000 operational hours since a 'lost-time' injury which resulted in an individual requiring time off to recover was recorded on site.
Each member of the Shotton team was presented with a specially-embroidered fleece to mark the milestone.
The Shotton site was one of the first in the UK to achieve The Institute of Quarrying's PRIME (Professional Recognition In Mineral Extraction) accreditation in recognition of the comprehensive provisions it makes for staff training, leadership and engagement.
Banks Mining also operate their own bespoke licensing and training scheme, which is designed to go beyond existing minerals industry standards by offering operational staff the chance to broaden their knowledge and experience in the safe, responsible and efficient ways of working with new site designs, equipment and techniques.
Christian Adkins, health and safety manager at The Banks Group, said: 'Safety is the absolute top priority at all our operational sites, and while we can never become complacent, we're very pleased that the commitment of our highly skilled team to working in the safest possible ways has enabled us to reach this latest landmark.
'We operate in a very health-and-safety-conscious environment at all times, and our team is highly skilled in recognizing, managing and avoiding potentially hazardous situations.
'We also work to provide the right training and development opportunities for our team, so that we stay fully up to date with the latest industry developments and maintain the knowledge required to work in the safest possible ways.'