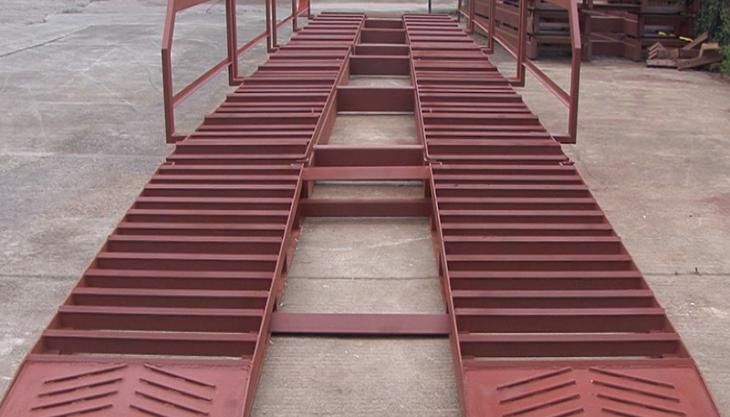 DriveOn V-Tech offers environmentally sustainable alternative to traditional wheel wash systems
The award-winning DriveOn V-Tech waterless wheel-cleaning unit, available from EcoGreen Plant Hire Ltd, offers a modern, environmentally sustainable alternative to wheel wash, bath and spray systems, in preventing mud and debris from contaminating quarry exits and the surrounding roads.
Winner of the Skanska 'Green Solution of the Year' award in 2012, the DriveOn V-Tech requires no power, so is 'carbon zero' in operation; has no moving parts, so suffers no breakdowns; uses no water, so does not freeze up in winter; and requires no operator, thereby providing considerable cost savings along with the environmental benefits.
Sandy Fullarton, a quarry manager with Aggregates Industries, said: 'I have worked in the quarrying industry for 37 years, five of which have been at Duntilland. I was forced to seek an alternative wheel wash when ours broke down, and after surfing the Internet I came across the DriveOn V-Tech that required no water pumping or additional flocculent costs.
'We originally hired a unit and then decided to purchase. It has been very successful and even with up to 300 vehicle movements a day, we only need to clean it out quarterly.'
According to Mr Fullarton, the DriveOn V-Tech has saved £14,000 per annum on energy costs, reduced carbon emissions by 27 tonnes per annum, and reduced water consumption by 22 million litres per annum.
Meanwhile, John Green, operations manager with Smiths Concrete, commented: 'Before opening a new quarry at Wolston, we needed to make a decision on the wheel-cleaning requirements for the quarry exit, to ensure that we kept the surrounding roads free of mud and debris.
'We were also aware of our sustainability and environmental aspirations as a company, so we decided to trial a DriveOn V-Tech dry wheel-cleaning system. Whilst we recognized the system's green credentials…we were somewhat sceptical of how effective it would be.
'However, after a few weeks of hiring the system at our existing Bubbenhall Quarry, we were convinced enough to go ahead with the purchase. I'm happy to report that the DriveOn V-Tech is working well at the new Wolston site, so much so that we were praised at a local residents' meeting for keeping the roads clean and safe.'