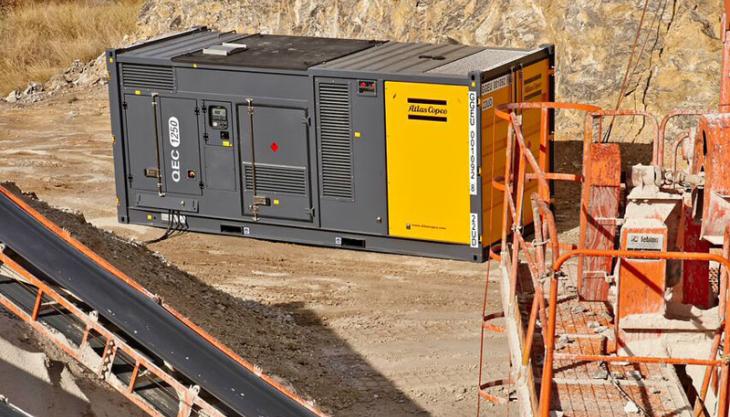 Company adds four new QEC models to its containerized generator line-up for remote work sites
ATLAS Copco have expanded their containerized generator offering with the launch of four new models – the QEC 800, QEC 950, QEC 1000 and QEC 1200. The latest generators, which joins the existing QEC 1250 model, have been specially designed for use in multi-drop, prime power and critical standby applications for the rental and mining industries.
The QEC 800, 1000 and 1250 units are available for the global market (50/60Hz switchable), while the QEC 950 and 1200 models are dedicated 60Hz, EPA Tier 2 certified for the US and Canada.
Customers can tailor their QEC model to individual requirements such as power output and noise suppression. A host of factory-mounted and retrofit options allow this customized configuration, including: digital AVR; a coolant heater, an air shutdown valve; and customized colors.
All QEC generators come in a standard ISO CSC container to facilitate transportation to the most remote worksites. Fork-lift slots and lifting eyes are integrated for swift on site manoeuvring.
Quality components, including a Leroy Somer alternator and a Cummins engine, ensure reliability and performance. According to Atlas Copco, extensive testing during the design and production phases will result in a long lifespan and a high resale value for the QEC range.
To minimize maintenance and service costs, the QEC units comes with long service intervals of 500h, easy removal of the aggregate engine-alternator via the slide in/out concept, large access panels, a mechanical cooling system and several service tools. Additional maintenance features include: heavy-duty dual-stage fuel and air filtration; a dedicated door for easy cleaning of the engine coolers; and easily accessible power cable connections.
An optional Atlas Copco Qc4003 controller can be used to put two or more QEC models into parallel operation for a flexible power solution for loads that exceed the output capability of a single generator set. This type of power-management system (PMS) can also be utilized to provide continuous power when one of the gensets needs to be shut down for scheduled maintenance or repair.
Julio Tome, product marketing manager for Atlas Copco Portable Energy, said: 'Our mining and rental customers asked for containerized predictable power for large loads. With up to 1MW of power, the QEC meets their key needs: a flexible configuration and output; extreme reliability; and high performance in an easy-to-transport container.'