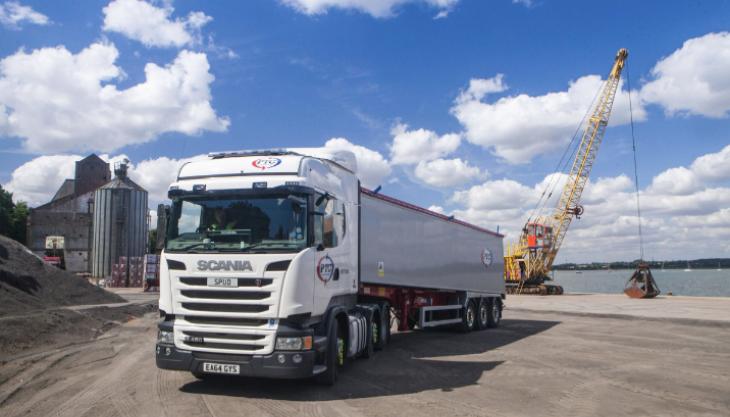 Scania's new Maidstone service centre already attracting new business six months ahead of opening
ARDULA Group, based in Laddingford, near Maidstone, a leading construction industry haulage operator in London, the South East and the Home Counties, have purchased their first Scania truck, with a further six currently on order.
Ardula's decision to move to Scania is a direct consequence of Scania's investment in new premises in Maidstone, together with Ardula director Ricky Hemmings' long involvement with the Scania brand with a previous employer.
The first vehicle to enter service with the company – a Scania R 450 LA6x2/4MNA twin-steer tractor unit with a Scania Highline cab – is operating in the fleet of Ardula subsidiary PTC (South East) Ltd, hauling a bulk aggregate trailer in the London and Home Counties area. A further three vehicles of the same specification are on order.
'Having operated a large fleet of Scania trucks for 10 years prior to joining Ardula, I know them to be a bulletproof brand for the construction industry,' commented Mr Hemmings.  'They run and run and will take any amount of hard work you care to throw at them. And when they do need repair, my experience is that they stay repaired. Quite simply, they are strong, reliable vehicles.
'All that, together with the fact that Scania are coming to Maidstone, made the decision to change to Scania an easy one for us. The forthcoming arrival of their new premises has been a game changer for Ardula.'
The remaining three trucks, which are due to enter service in the autumn, are all Scania G 450 CB8x4MHZ tippers. These will be additions to the 20-strong Ardula fleet and will serve the company's customers in the Kent, East Sussex, London and South Essex area.
Ardula's managing director, Martin Dace, said: 'We had considered buying Scania in the past, but with other manufacturers having outlets much closer to us we never took the plunge, even though other operators told me how great the trucks are. Fuel consumption and reliability of the tractor unit have been excellent so far and we look forward to getting a better fleet comparison when the other tractors and rigid tippers arrive.'