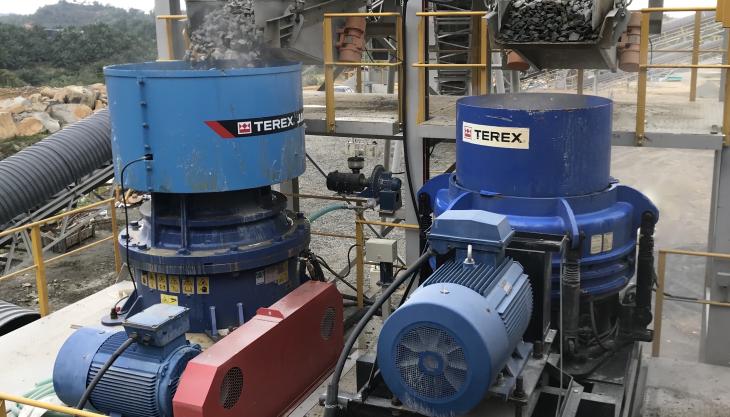 Terex MPS plant chosen to supply aggregates for Malaysian Pan Borneo Highway Project 
MALAYSIAN-based quarrying and asphalt company Asas Nikmat Sdn Bhd (ANSB) have selected a 350 tonnes/h Terex MPS plant to supply steady, reliable aggregates for the Pan Borneo Highway Project.
The Pan Borneo Highway (PBHS) is Malaysia's biggest road project. Spanning more than 2,000km and connecting Borneo's East Malaysian states of Sarawak and Sabah, once complete, the PBHS will establish a transportation backbone and deliver significant economic benefits to the region.
The construction of such a major infrastructure project relies on a reliable supply of aggregates of suitable quality, and ANSB, one of the local aggregate producers selected for the job, turned to Terex MPS for a solution that would meet their needs.
'Our previous dealings with Terex MPS gave us confidence that their equipment is reliable and well engineered,' said Andrew Wah, director of ANSB. 'We required a plant that could provide a large output whilst having the flexibility to produce different types of aggregates, based on the project's demand.'
The solution was a 350 tonnes/h Terex MPS plant incorporating an ST47 single-toggle jaw and three cone crushers – a G30 unit, a J35 unit, and a TC1000. Together, these machines provide a robust and reliable solution for production of the –50+0mm aggregates used for road base throughout the highway project. The plant has already been in operation for two years and will continue to perform for many more years until the project has been completed.
'The equipment is performing above our expectations, delivering more capacity, better-shaped product, and requiring less maintenance,' said Mr Wah.
'What we have also appreciated is the support provided by Terex MPS – the team were a great help and resource during the planning and commissioning of the plant. They were able to communicate effectively with our team to ensure that it was optimized to meet our specifications, while also achieving the robust safety, functionality and performance standards needed for our jobsite. The result is a plant that is operating effectively, with minimal downtime.'
Benjamin Tong, sales manager with Terex MPS, said: 'ANSB have an excellent reputation for providing their customers with the highest-quality service and products. Having them choose Terex MPS for this large-scale construction project is a terrific testament to the safety and high performance of our equipment, coupled with the close aftermarket support we provide to our customers to make sure our equipment is operating as required.'