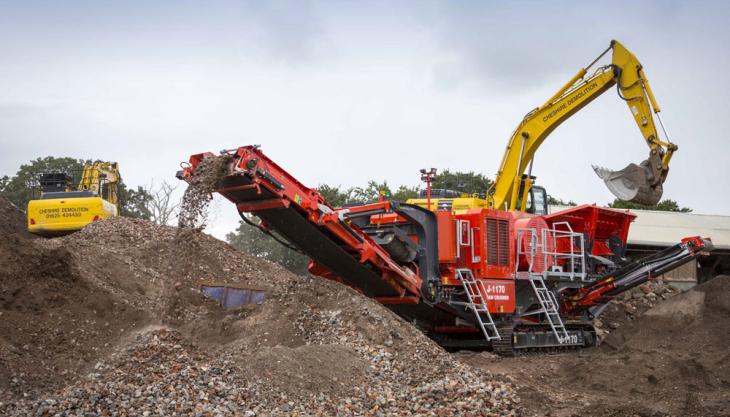 Macclesfield-based firm takes delivery of new J-1170 jaw crusher from suppliers Finlay Central 
CHESHIRE Demolition are expanding their operations to meet increasing demand with the help of new Terex Finlay plant featuring the latest in telematics monitoring. The J-1170 jaw crusher joins a fleet of other Terex Finlay machines at the company, including an 883 screener and J-1160 unit. 
Cheshire Demolition have specified a T-Link telematics system as an additional feature for their latest acquisition, which allows the plant to be monitored remotely off site as required. The technology also gives operators a digital platform to review the performance of the J-1170, including fuel consumption, belt speed and tonnage for optimum productivity. 
'As a business, we've seen rapid growth in the last five years, so we've bought in another Terex Finlay J-1170 to help us keep up with that demand,' said Neil Trueman, a director at Cheshire Demolition. 'Between 2,000 and 3,000 tonnes of material come to our reclamation yard in Macclesfield every week, so it's important for us to have the machinery that can help us stay ahead of the game.' 
Through the use of the new Terex Finlay J-1170 crusher, and the existing plant and purposed-developed facilities, Cheshire Demolition are able to produce and supply products such as recycled MOT and 6F2 aggregates at a rate of up to 2,000 tonnes a day. 
The mobile plant is equipped with a heavy-duty, variable speed vibrator grizzly feeder and integrated pre-screen, while other notable features include a robust, hydrostatically driven Terex jaw chamber that delivers high capacity with large reduction ratios.
The jaw chamber configuration, via a hydraulic release chamber option, can be set up specifically for either processing construction demolition debris or quarrying applications.
Neil Partington, sales director for Finlay Central, commented: 'What makes this different from the other jaw crushers Cheshire Demolition have had is the T-Link telematics system, as it allows the plant to be monitored from anywhere around the world.'