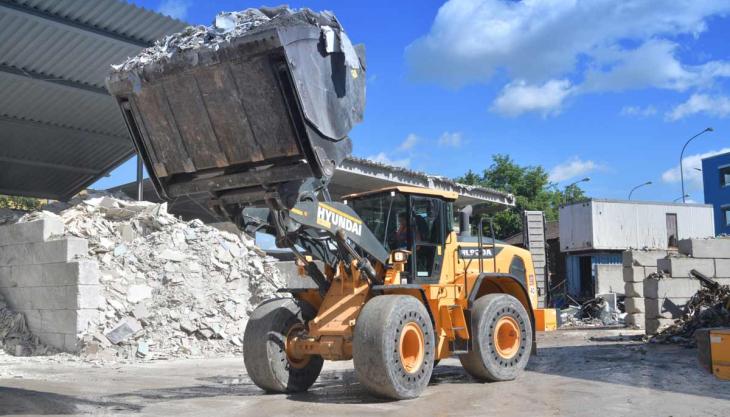 Waste operator adds new HL960A wheel loader to its growing mobile plant fleet 
BTU Hartmeier Entsorgung GmbH & Co. KG – specialist waste-management and recycling contractors operating in a 50km radius around Munich – have bolstered their earthmoving equipment fleet with the addition of a new Hyundai HL960A wheel loader.
Founded in 1996, the firm, headquartered in Unterschleissheim (north of Munich), specializes in the disposal and reprocessing of construction and demolition (C&D) waste materials. BTU Hartmeier currently operate a 15,000 sq m recycling facility in Unterschleissheim, and at further sites in and around the area, collecting and receiving around 130,000 tonnes of C&D waste per annum. 
As well as running a portfolio of state-of-the-art recycling centres, the company also operates a large fleet of earthmoving machinery for load-and-carry applications and feeding material into its crushers. 
Adding to the waste-management firm's existing Hyundai fleet, BTU Hartmeier say their recently delivered Hyundai HL960A wheel loader was chosen for its power, improved fuel consumption, increased safety and ergonomics. Powered by a Cummins QSB6.7 engine (compliant to Stage V emissions regulations) that delivers 168kW, the 19-tonne machine will be in use for around 2,500 operating hours per year.
Johann Hartmeir Jun, of BTU Hartmeier, commented: 'Other features of the machine include solid rubber tyres, which help minimize damage and downtime when working with often sharp-edged recycled materials. The high-lift tipping bucket, which has a tipping height of 4,200mm, is also required for loading high-edged and walking floor semi-trailers.'
Authorized Hyundai dealers Fischer & Schweiger GmbH of Augsburg, who supplied the HL960A, have also been awarded a service care contract to minimize machinery downtime and to ensure the wheel loader is performing at optimum levels.