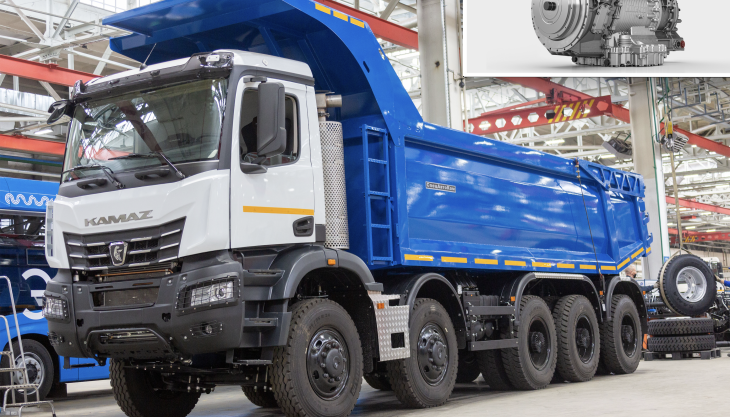 Russian KamAZ-65805 mine and quarry dumptruck equipped with Allison 4700 fully automatic transmission

RUSSIAN original equipment manufacturers KamAZ have launched the first of a new range of dumptrucks for the mining and quarrying sector – the KamAZ-65805 Atlant – featuring an Allison 4700 fully automatic transmission.
Developed by the KamAZ Science and Technology Centre, the KaMAZ-65805 is designed for the transportation of rock and ore in medium and small quarries and mines, and is capable of being converted into an autonomous vehicle.
Equipped with a new 500hp 12-litre in-line KamAZ 910 diesel engine, the KamAZ-65805 Atlant truck range will include vehicles with payload capacities from 45 to 70 tonnes.
With the Allison 4700 fully automatic transmission, which includes hydraulic retarder, and progressive steering, the new truck is said to have the superior manoeuvrability, robustness and safety needed in the mining and quarrying segment.
The integrated hydraulic retarder was specified to provide greater brake system service life and to address the challenge – particularly in quarries and mountainous areas – of slowing the truck effectively without overloading the brake system.
Another valuable safety feature of the automatic transmission is that it virtually eliminates rollback when driving uphill.
'As one of the key vehicle components, the transmission is subject to increased requirements in terms of reliability, durability and manufacturability. These were the major factors for selecting a transmission for the new KamAZ Atlant,' said Sergey Nazarenko, chief designer of innovative vehicles at the KamAZ Science and Technology Centre.
An additional benefit of Allison Automatics is the patented Continuous Power Technology. This provides more efficient power transfer to the wheels and improved manoeuvrability, which, in turn, increases operational efficiency and profitability. In addition, the Allison 4700 transmission can be fitted with a power take-off (PTO) mechanism to power various equipment.
The new KamAZ-65805 haul truck has a 10x6 wheel arrangement with three rear-driving axles. The Allison fully automatic transmission was chosen by the Atlant's vehicle designers for this load capacity class where it is believed to significantly improve performance.
The two front axles and the last rear axle are steerable. This solution, along with the use of the Allison Automatic, puts the vehicle's manoeuvrability and off-highway capability on par with 8x4 trucks.
As a typical quarry vehicle scenario involves frequent shuttle trips over short and medium distances, with both the engine and all transmission components bearing heavy loads, the Allison transmission is designed to ensure optimal engine operation, increasing its life and thus the profitability of the dumptruck.
Moreover, the automatic transmission allows the driver to fully focus on driving without being distracted by shifting into the right gear.