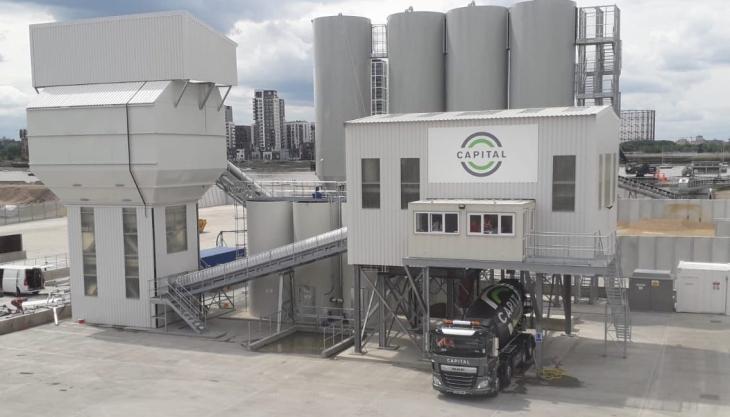 Capital Concrete's new ready-mixed concrete plant at Peruvian Wharf opens for business
CAPITAL Concrete's new state-of-the-art, river-fed concrete plant in Silvertown, East London, went into production on 5 June.
The new batching plant is capable of producing a range of quality concrete products at a rate of 200 cubic metres per hour, and its location at Peruvian Wharf – Brett Aggregates' new hub site beside the Thames – means that it is well positioned to supply major construction projects in Central and East London.
In line with government objectives, the Silvertown facility is fed with marine-dredged material transported by river from Brett Aggregates' Cliffe depot on the Thames estuary, reducing impacts on air quality and traffic congestion on London's busy roads.
Peruvian Wharf is among 50 sites alongside the Thames in London that have been safeguarded for cargo handling and is the first of these to be brought back into use.
'Plant capability and location in London is key and this new plant at Silvertown complements our new rail-fed plant at Wembley, which opened in October 2018', said Luke Smith, managing director of Capital Concrete.