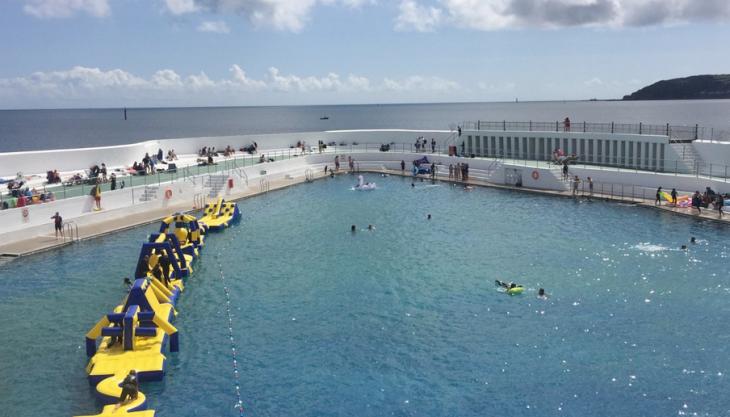 Company helps reopen one of Europe's few remaining saltwater lidos in £3 million restoration scheme
AGGREGATE Industries have helped reopen one of Europe's few remaining saltwater lidos, in a £2.94 million restoration scheme for the Jubilee Pool in Penzance, Cornwall.
The project was part of an effort by the community and local government to restore the cherished bathing spot, which originally opened in 1935, the year of King George V's silver jubilee.
The repair and restoration work was in response to the serious structural damage suffered in the storms of 2014, which battered the Cornish coastline.
Being a saltwater tidal pool, the project demanded specialized design requirements, as there was a high risk of corrosion to the concrete reinforcement.
The restoration also required a blue-coloured swimming pool base to be constructed with a blue-pigmented concrete, which had to comply with an XS2 exposure class to ensure durability for the intended design life.
However, due to the soaring cost of the required blue pigment, Aggregate Industries worked closely with main contractors CORMAC Contracting to propose a more cost-effective solution using a coloured surface hardener in conjunction with a lightened base concrete.
Andrew Wilson, territory sales manager at Aggregate Industries, explained: 'We collaborated with the colour surface hardener supplier to provide a bespoke concrete that not only met the XS2 exposure class, but also the unique requirements of the project.
'The product of choice was a bespoke mix of Artevia Light concrete, which not only complied with the exposure class and achieved the high-durability requirements, but also provided a lightened concrete for the installation of the colour surface hardener.
'This high-performance formula, coupled with a light concrete design to ensure consistency of colour, means the pool not only looks visually appealing, but will also stand the test of time. In total, we supplied 492 cubic metres, which was produced by our Redruth plant.
'Jubilee Pool is an important fixture in the local community and has long been a focal point where people can gather and socialize, and families can enjoy a fun day out.
'We were delighted to play our part in refurbishing the pool to give it a new lease of life. Combined with its aesthetic appeal, Artevia Light was the ideal solution in terms of design, durability and cost.'