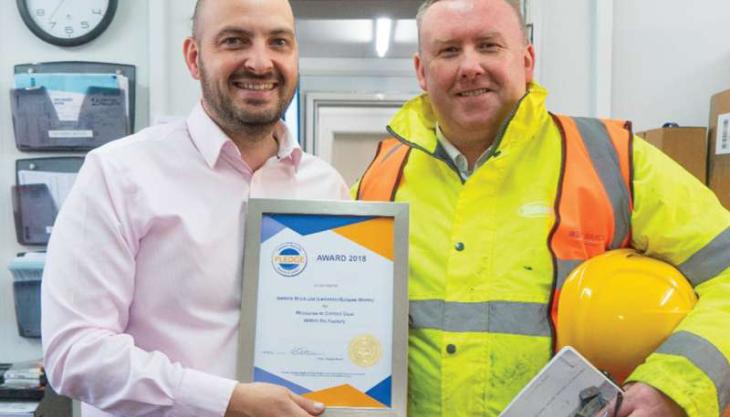 Brick manufacturer teams up with Tennant for dust control at new Eclipse brick factory
IBSTOCK Brick, the UK's leading manufacturers of clay products, employ nearly 1,400 people over 19 sites, most of which have associated quarrying operations at or near to them. In order to meet the increasing demand for bricks, the company has recently extended its manufacturing capabilities at its site in Coalville, Leicestershire.
The new Eclipse factory can manufacture 100 million bricks per annum, which, when added to existing output from the site, means it will produce a total of 190 million bricks per annum – equivalent to around 28,000 new homes.
The control of dust represents a constant challenge for a facility of this size, which is why Ibstock Brick contacted Tennant, specialists in sustainable cleaning products and innovation, to help find a solution.
Tennant offer three dust-control methods that can help support housekeeping requirements for dust control and, in developing their offering for Ibstock, worked closely with the brick manufacturer to test their HEPA-enabled S20 sweeper.
The Tennant S20 is a versatile and durable mid-sized industrial sweeper with a three-stage primary filter system, although the option of a fourth-stage HEPA dust filter was also made available.
Jamie Harris, Tennant's national account manager, explained: 'A HEPA filter has a special filter media that can clean to a very high standard by removing microscopic particulate from the air.'
Based on Ibstock Bricks' testing, the HEPA filter should last between six months and a year, depending on the application. Proper usage and maintenance practices will help increase the effectiveness of the sweeper machine's filtration stages and the life of the HEPA filter.
Michael Caughey, senior production manager at the Eclipse site, said: 'Tennant provided support and helped us identify machines that would help keep the new factory clean.
'In December 2018, this equipment helped us gain the Ceramic Industry Health & Safety Pledge Award for measures to control dust within the factory, which is something that we are very proud of and would have not achieved without the Tennant machines that we have on site.'