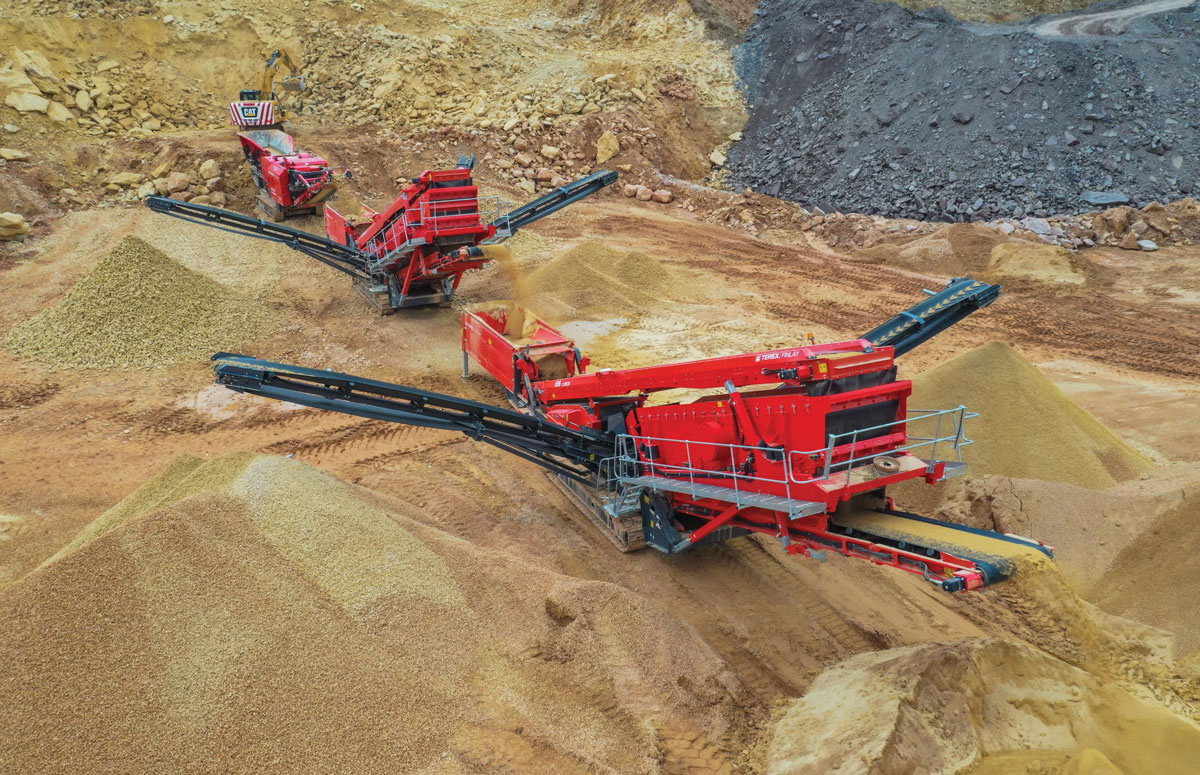 First published in the December 2020 issue of Quarry Management
South Yorkshire-based Catplant Quarry Ltd increase production capacity at their Doncaster facility with two new Terex Finlay 696 inclined screeners from Molson Finlay
Initially established more than 40 years ago as a plant hire and demolition company, Catplant Quarry Ltd have come a long way from their humble beginnings, including recently taking delivery of the first Terex Finlay 696 two-deck and 696 three-deck screeners in the UK.
Now operating from a 135-acre quarry near the village of Hampole, near Doncaster, the company produces a wide range of aggregates from the local Magnesian Limestone. In addition, almost 60% of the quarry's footprint takes non-hazardous material as landfill, leaving Catplant as possibly the only landfill site left in South Yorkshire.
Since their formation by Sid Boulton, who sadly passed away in 2017, his son-in-law Ronnie Harrod has always led the business, playing a key role in securing the company's current quarry in 1994, as well as obtaining the relevant permissions to adapt its purpose to include landfill in 2007.
'Sid is nothing short of an industry and local legend in these parts,' Mr Harrod reminisced. 'His legacy is clear for all to see here at Catplant, from the way we do business to the way we treat our machinery.
'Things are different these days, but one vivid memory I have is the time he was negotiating with a salesman over the price of a new machine and it had come to the final few quid. Sid pulled a coin out of his pocket and offered to 'flip him for it' – it turned out that Sid won and the salesman had some explaining to do when he got back to the office, but the point is that Sid was a man of his word. If he had lost that bet, he would have had no hesitation in paying out.'
These values are also clear in the way Catplant deal with their suppliers of machinery. Mr Harrod and his team have been loyal customers of Terex Finlay for many years and have similar long-standing relationships with other manufacturers. They have also been at the forefront of new product releases, being the first to take delivery of the Terex Finlay 693 and 694 Supertrack models upon their release.
'We don't rush into things when we are selecting a supplier, but once we have made our choice, we commit to working with them in a partnership-style approach,' said Mr Harrod.
'I wasn't sure what to think when I heard that Molson were purchasing Finlay Group back in 2018, but I have to say that they have really stepped it up a level in terms of after-sales support, with more parts in stock and even more engineers on the road. They have also been upfront and honest at every step along the way, whilst delivering on all the promises made. Sometimes that's a hard thing to do when the news isn't what you want to hear, but it allows us to adapt and keep our production going.'
Catplant's most recent investment in crushing and screening equipment is a pair of Terex Finlay 696 inclined screeners. The 696 was first unveiled to the UK market in September 2019 at the Finlay Open Day held by Molson Finlay, in conjunction with Terex Finlay, at Breedon Northern's Raisby Quarry, near Coxhoe, Co. Durham. 
The 696 is the largest mobile inclined screener currently in production at Terex Finlay's state-of-the-art production facility in Omagh, Northern Ireland. With standard diesel engine and hybrid-powered variants available in both two- and three-deck options, the 696 is based on the tried and tested 694+ model, making it a particularly suitable match for quarrying, mining, sand and gravel, coal and topsoil applications.  
Development of the 696 has been focused on increasing the screening area to boost production, with the 696 screenbox measuring 6.1m x 1.7m (20ft x 5ft 7in) compared with 6.1m x 1.52m (20ft x 5ft) on the 694+. This increase gives the 696 triple-deck a total screening area of 31.1m2 (335ft2), which can be adjusted to any angle between 18° and 32°. 
The machine is fed via an 8m3 (10.5yd3) hopper equipped with a variable-speed belt feeder to ensure a consistent flow of material. The hopper can also be fitted with a remote tipping grid or double-deck vibrating grid, and has the ability to be in-line fed or loaded by an excavator or wheel loader.
On the three-deck model, the fourth product (oversize plus) conveyor features hydraulic variable tilt and slew discharge for recirculating to a secondary crusher or the stockpiling of finished material. 
With the standard diesel option powered by a 131hp Caterpillar C4.4 engine that meets Stage V European emissions regulations, the 696 triple-deck weighs a fraction over 40 tonnes (40,050kg) and measures 19.7m in length x 3m in width when folded into transport mode. When opened out into working mode, the machine measures 21m in length x 18.5m in width.
Catplant quarry manager Bryn Anderson has the pair of 696s set-up in a train with the 696 triple-deck being in-line fed by a Terex Finlay J-1170 jaw crusher. The triple-deck unit creates three clean, sized products (75mm, 40mm and 20mm), with the fines feeding directly into the 696 twin-deck screener to create two additional clean, sized aggregate products.
Like all new Terex Finlay machines, Catplant's 696 units have been supplied with a free seven-year subscription to the Terex T-Link telematics system. This technology provides operators and managers with critical information to allow them to better manage their fleet.
Mr Anderson said: 'I use the T-Link system on a daily basis, but I also get great value from the weekly summary email that I receive first thing every Monday. From systems on the dashboard, I can quickly identify any potential issues and also dig into everything to investigate. We have also been able to geofence the quarry to ensure that if anything were taken without our permission, it would not be able to start anywhere else.
'With the cost of fuel being such a key part of our cost per tonne, we also use T-Link to monitor each machine's performance as well as staff behaviour, by digging into each machine's idle time. These insights can help us make a big difference to how efficient our operation is.'
Molson Finlay sales manager Brian Bell commented: 'Ronnie and Bryn are fantastic to deal with. They let you know exactly where you stand at every step of the way and have always been true to their word. I know these 696s will be a great addition to their fleet and I'm looking forward to seeing how much they improve their production over the coming years.'