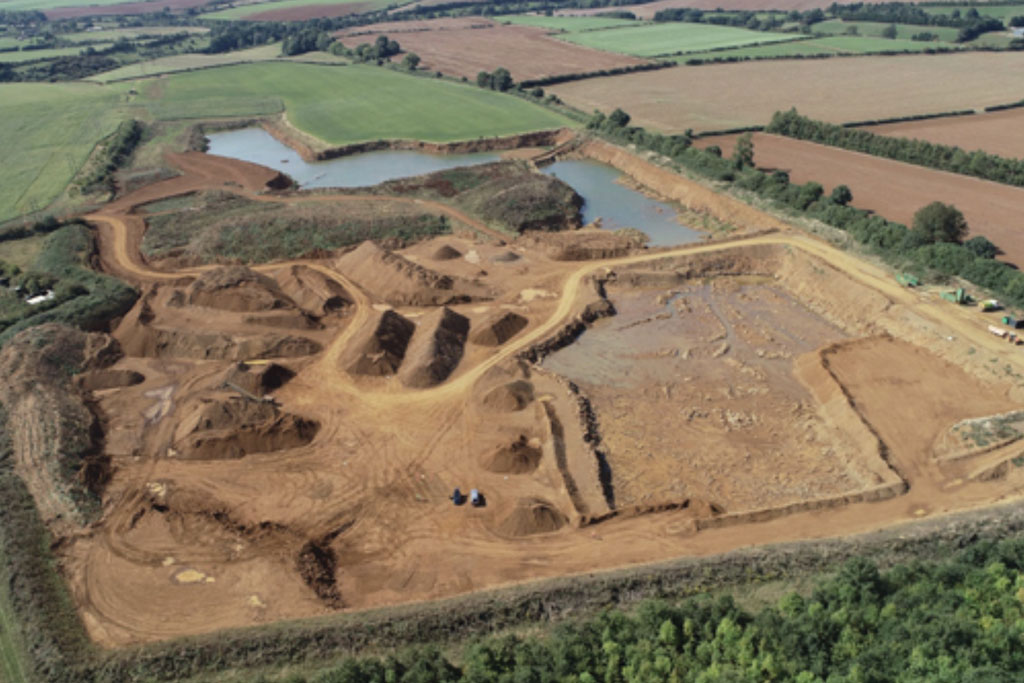 First published in the March 2019 issue of Quarry Management 
The Bennie Group work with Stratian to deliver faster, safer and more accurate quarry audits
Working with specialist start-up engineering company Stratian, The Bennie Group are testing new drone technology to survey and measure stockpile volumes at their various quarry and landfill sites. Stratian, who specialize in drone surveying and inspection, use state-of-the-art GPS-guided UAVs to collect data in order to create outputs such as 3D models that provide critical insights for clients in the quarrying, mining, construction and earthworks sectors. For The Bennie Group, data are collated and processed to create accurate 3D elevation models of their sites to provide volumetric measurements.
Stratian were founded by Alex Hoppenbrouwers, who was previously part of the investment team at Mercia Tech, a venture capital fund investing in high-growth tech businesses. Whilst at Mercia, he gained an insight into the impact of drone technology on sectors such as construction, and it is this impact that drives the company's mission – to help UK businesses increase productivity through drone technology. Initially, Stratian are providing aerial site surveys, although they are also working on the development of a software product for the mining and quarrying sector using drones – for which they are actively looking for industry partners. 
The Bennie Group appointed Stratian to help transform their audit process for stockpile analysis from manual methods to an aerial survey method, with a view to reducing both the health and safety risk for the company's employees, compared with manual survey methods that involve physical climbing of the stockpiles, and the time taken to conduct stockpile measurements.
'Stratian have been providing us with a unique level of drone support on our projects,' said Matt Ayres, operations director with The Bennie Group. 'Unlike other providers, they understand the value of drone technology to the industry and working with them is a welcome step change. 
'Previously, we used a traditional 'walk-through' manual survey technique that involved an individual climbing each stockpile with a manual measuring device to create contour lines. Climbing each stockpile was both difficult and dangerous, and we wanted to eliminate this health and safety risk whilst reducing the time taken to complete the survey.'
Stratian conducted aerial surveys of three sites owned by The Bennie Group. Allowing for site-to-site movements, each area was completed in approximately 5min and the data from each location were then processed and used to construct accurate 3D point cloud models of the sites. It is from these precise models that volumetric measurements of each stockpile are derived. Data from each location was also converted into a 2D orthomosaic to present annotated results on each stockpile. Compared with manual methods, The Bennie Group say Stratian's visual report presents a more straightforward and user-friendly stockpile- and site-management process.
Key benefits of the aerial surveys include: up to 70% faster completion compared with traditional manual survey methods; a reduction in health and safety risks, as the process removes any need to physically record the stockpiles; and increased accuracy, as manual surveys do not detect subtle stockpile differences, relying instead on contour lines rather than a point cloud model. The key deliverables include: 3D models of the sites delivered in Sketchfab for ease of use and greater visualization; topographical survey maps constructed in conjunction with a chartered land surveyor; and individual precise stockpile volumes. 
The Bennie Group say they plan to continue to work with Stratian on their monthly quarry audits, to help develop the precision of the models and to allow future rapid and accurate monitoring of stock levels and site developments. Trials are also being undertaken with The Bennie Group's earthworks division.
'Exploring drone technology and leveraging its value as the technology develops has been an ongoing strategic component for Bennie for a number of years. We know the future of drone technology within the construction industry is going to be huge and we want to continue exploring, testing and developing its use,' said Mr Ayres.
'Using Stratian, we are able to rapidly model, visualize and measure our sites, giving our operational teams added value and greater insight into their everyday operations. This level of aerial and dimensional detail had previously been the reserve of our engineering team and our drone usage was infrequent do to its purely photographic nature. This step up in capability means we can give our teams more information to allow them to do their jobs better.'
For more information visit: www.stratian.co.uk