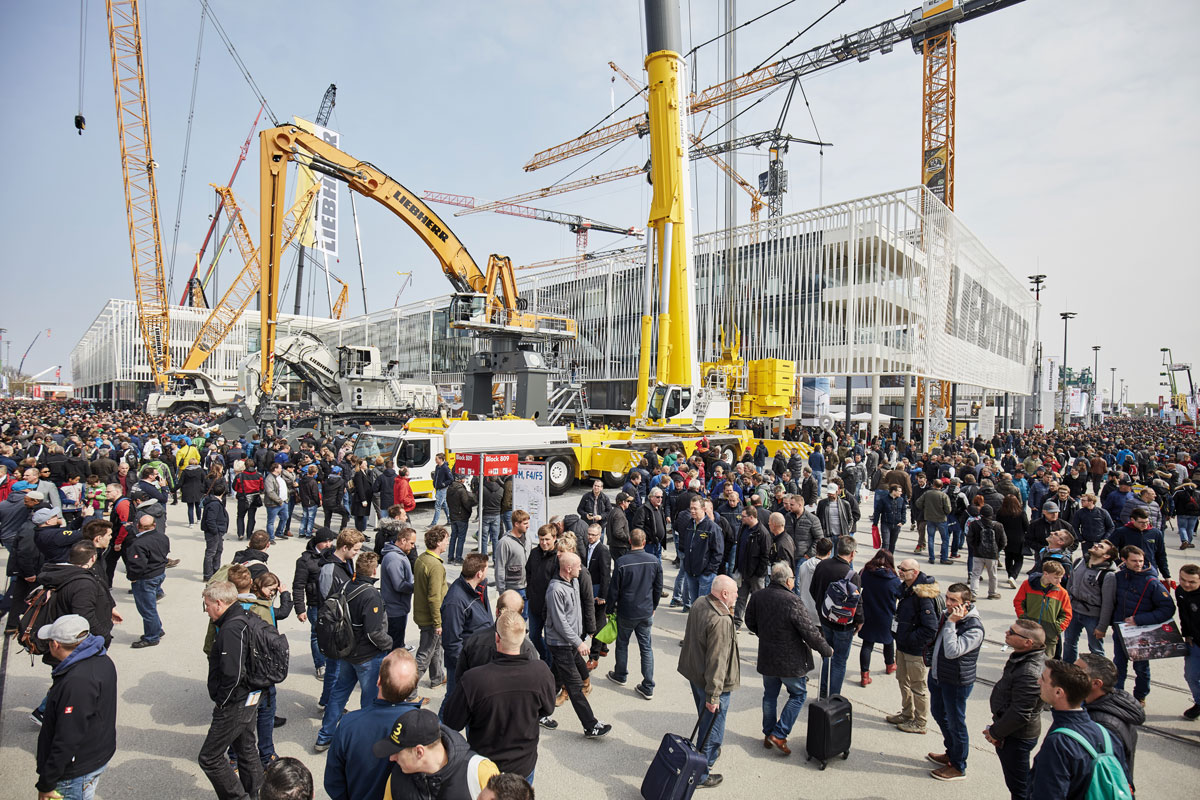 First published in the October 2022 issue of Quarry Management
QM takes a brief look at a few of the newest items of plant, equipment, and machinery making an appearance at the world's biggest construction trade fair  
Later this month (24–30 October), bauma 2022 – Germany's triennial international exhibition of plant, equipment, and services for the construction and mining sectors – will take place at the New Munich Trade Fair Centre.
In April 2021, show organizers Messe München took the decision to postpone bauma 2022 by six months from its usual spring date until late October amidst the growing uncertainty around travel restrictions and social distancing measures stemming from the Covid pandemic.
Now, with the easing of restrictions and the success of completed vaccination programmes in many countries, in-person meetings and events (following COVID-19 safety and health guidelines) are making a gradual comeback.
Underlining its status as the world's biggest construction and mining trade fair, bauma 2022, once again, is a complete sell-out with more than 3,000 exhibitors from around 60 countries taking part and using the show as a platform to showcase their latest product and service offerings across over 600,000m2 of exhibition space.
Here, we provide a very brief glimpse of just some of the latest construction plant, equipment and machinery that visitors will be able to see in Munich, starting with Allison Transmission, who will be introducing their new, fully electric axles and transmissions, including the eGen Power family of electric axles for construction trucks and the TerraTran fully automatic transmission for the toughest off-road applications.
Compatible with many existing truck chassis, the Allison eGen Power is a drop-in solution featuring fully integrated electric motors, a two-speed gearbox, and an integrated oil cooler and pump for optimal efficiency and performance. It is compatible with battery electric vehicles (BEVs) and fuel-cell electric vehicles (FCEVs), as well as hybrid applications.
The twin-motor eGen Power 130D is a 13-tonne variant specifically designed for European and Asia Pacific markets. It has a continuous output of 454kW and a peak output power of 652kW, making it one of the most powerful electric-axle solutions on the market.
The TerraTran transmission is a version of the proven Allison 4000-Series on-highway transmission for the extreme demands of global construction and mining markets. Featuring seven forward and two reverse gears, TerraTran offers a maximum power capability of up to 800hp and torque capability up to 3,200Nm.
The three pillars of sustainability, connectivity and productivity will be represented across the more than 100 products that Ammann will display at bauma 2022. A variety of product lines and technologies will be represented at the show, including the latest asphalt and concrete mixing plants and systems, plus an array of light and heavy compaction equipment, including the all-new ARP 75 StV – the latest addition to Ammann's line of pivot-steer tandem rollers. Featuring the same advantages as its articulated counterparts, operators of the ARP 75 StV are expected to appreciate the new symmetrical cab concept, with its 360° visibility and advanced display, together with easy access to all daily maintenance and service points.
Bell Equipment will be showing their new-generation two-axle Bell B45E 4x4 articulated dumptruck (ADT) at bauma 2022. As a supplement to their range of seven 'traditional' 6x6 ADTs, with payloads from 18,000kg to 45,400kg, Bell Equipment are the only manufacturer of ADTs in the world to have offered a parallel range of two-axle ADTs for the past six years. In the right applications, these units are said to outperform both conventional rigid dumptrucks that need good haul roads and three-axle ADTs designed for extreme off-road mobility.
At the upper end, the Bell B60E 4x4 – with a 55-tonne payload and 35m3 dump body capacity, is now a benchmark for all-weather operations on undulating ground in opencast mines or large quarries. At the bottom of the range, the Bell B30E 4x4 (28 tonnes; 18.5m3) offers a compact and highly economical solution for sand and gravel pits.
The new second-generation Bell B45E 4x4 (41 tonnes; 25m3) is aimed at small-to-medium-sized quarry operations where it competes against rigid dumptrucks in the 45- to 55-tonne class, or 6x6 ADTs with payloads of 40 tonnes or more. Compared with both types of vehicle, the 4x4 truck is said to demonstrate its strengths to the full in typical hard rock quarrying applications on rough ground with steep climbs and tight bends.
At bauma 2022, Caterpillar construction equipment will be displayed by the company's German dealer Zeppelin and will comprise more than 70 machines and attachments. The exhibit will include different model platforms – from XE models built for performance with the latest technologies and/or advanced drive systems to GC models designed to deliver rugged reliability and value.
The nearly 30 Caterpillar Global Construction & Infrastructure models on display will be anchored by nine tracked and four wheeled next-generation excavators ranging in capacity from 15 to 95 tonnes. The stand will also include articulated and off-highway trucks with capacities ranging from 30 to 70 tonnes and Cat 992 and 988K XE large wheel loaders. Recent updates to the 988K XE with electric drive give the loader faster downhill speeds, improved rimpull, and increased hydraulic breakout force for up to 5% better production over the previous 988K XE model.
Complementing the range of Cat construction equipment, dozens of Cat attachments will also be on display, including hammers, sheers, grapples, couplers, buckets, dozer blades, augers, demolition grapples, and tiltrotator systems.
This year's bauma will play host to a significant celebration as CDE mark their milestone 30th year in business. Since its inception in 1992, the company has successfully delivered more than 2,000 proven sand and aggregate wet processing solutions in over 100 countries and facilitated the diversion of more than 100 million tonnes of construction, demolition, and excavation (CD&E) waste from landfill globally.
At this year's show, CDE will focus on their innovations in Europe's waste-recycling sector, including some of the most advanced waste recycling plants in the DACH region, such as that of Switzerland-based WALO AG, whose 200 tonnes/h plant is processing a range of feedstocks, including excavation waste and railway ballast.
Commenting on the company's history with the trade fair, CDE's head of business development for Northern and Western Europe, Eunan Kelly, said: 'bauma has played a hugely important role in the CDE story. It has hosted many of the biggest product launches over our 30-year history, innovations that continue to guide the company on its mission to create a more sustainable future. This will be our focus at bauma 2022 as we demonstrate how we are helping the sector to rise to the challenge and tackle the waste burden.'
Continental have expanded their ContiEarth range to include an innovative new radial construction tyre, the LD-Master L5 Traction, which ensures high traction and durability for wheel loaders with demanding load requirements. Initially available in size 35/65 R33, the LD-Master L5 Traction is specifically designed for wheel loaders operating on abrasive surfaces and in face-working jobs where high productivity and vehicle uptime are of the utmost importance.
The reinforced 3* carcass satisfies the highest load-carrying capacity requirements, even under extensive production cycles, whilst the L5 traction tread pattern protects the carcass and ensures a smooth ride and safe operation on site. The solid tread block design always provides secure traction, whilst the extra-deep tread and sidewall protection also make the tyre more robust and ensure long-term productivity.
To minimize idle time and ensure serviceability, even under harsh conditions, the LD-Master L5 Traction is factory fitted with an integrated tyre sensor, making real-time digital monitoring of tyre temperature and pressure possible at all times, via ContiConnect 2.0, and ensuring the most efficient operational mode for a long tyre life.
Being shown for the first time in the world at bauma 2022, the new DX225LC-7X from Doosan is the manufacturer's first 'Smart' crawler excavator, designed to help operators work faster and more efficiently. To facilitate this, the DX225LC-7X offers several new features as standard, including full electric hydraulic (FEH) technology. 
The company will also be premiering its new 100-tonne DX1000LC-7 Stage V-compliant crawler excavator, the largest excavator model ever manufactured by the company. Driven by the most powerful engine in the 100-tonne class, the DX1000LC-7 is said to have the highest hydraulic flow for this size of machine, providing best-in-class performance with higher productivity, lower fuel consumption, and smoother control.
Another world premiere for Doosan will be the company's first 4x4 articulated dumptruck (ADT). The new 4x4 version of the DA45-7 ADT is intended to challenge rigid dumptrucks in the 40-tonne class. With its 4x4 design, the new version of the DA45-7 is better at handling poor roads, smoother driving surfaces, and steeper terrain than rigid dumptrucks, and also has a better turning radius than comparable rigid trucks.
Recognizing bauma's standing as the world's leading trade fair for construction machinery, Komatsu will use the occasion to unveil a mix of 27 brand-new and well-recognized machines in what their Irish distributor, McHale Plant Sales, says will be 'a technology fest' that will demonstrate 'the advanced thinking that the Japanese manufacturer brings to the construction equipment sector'.
Alongside latest-generation versions of their heavy-duty HD785-8 dumptruck and their powerful D71 PXi dozer, other models on show will span the full spectrum of all that is new in the Komatsu construction equipment portfolio.
Amongst other topics of prominence will be Komatsu's march towards electrification (displayed in their giant PC4000-11 electric-drive mining excavator), alongside their long-term goal to achieve carbon neutrality and zero carbon emissions by 2050, and their 2030 commitment to halve CO2 emissions and increase the rate of renewable energy their machines use to 50% compared with 2010 levels.
Liebherr have been developing and supplying mixing plants for concrete production for more than 60 years and all this experience has now been incorporated into the development of a new and innovative modular system which the company will present to the public for the first time at bauma.
The new Betomix and Mobilmix mixing plant series can be flexibly combined using prefabricated modules and replace several predecessor series. For the customer, this means greater freedom when configuring the plants, shorter delivery times, faster assembly, and increased parts availability. Moreover, optimization of the drives reduces power consumption by up to 30% and increases the weighing accuracy, so that up to 7.5kg of cement can be saved per cubic metre of concrete.
Despite the difficult conditions of the past two years, Chinese construction equipment manufacturers SANY have continued to grow, especially in Europe. At bauma 2022, the company will be presenting a wide range of new products, some of which will be on show for the first time in Europe. Highlights will include the latest addition to SANY's large excavator portfolio, as well as the first model in a new range of telehandlers specially developed for the European construction market. Further machines will also be unveiled within the company's recently launched wheel loader product range.
SBM Mineral Processing will be presenting their new REMAX 600 tracked mobile impact crusher in Munich. With a feed capacity of 600 tonnes/h, a 1400 impact crusher for material feed sizes up to 900mm, and a maximum total weight of 75 tonnes, depending on the equipment, the plant can provide up to five fractions in one cycle. Triple wind sifting and – a novel feature in highly mobile impact crushers – a very efficient overbelt magnetic separator with longitudinal discharge as an option ensure the high purity of the final products, even in recycling applications. 
In addition to the serial pre-screening via a double-deck circular vibratory screen, there are three optional secondary circular vibratory screens (one-, two-, and three-deck), all facilitating the recirculation of oversize material, as well as highly cantilevered discharge conveyors for large product stockpiles. As with all mobile plants made by SBM, the REMAX 600 features consumption-optimized diesel-electric 'hybrid' drive with optional grid operation. 
A commitment to sustainability will be shown in the world premieres and innovations presented by the various Wirtgen Group product brands at bauma 2022. 
For example, with the Wirtgen KMA 240i cold recycling mixing plant, it is now not only possible to produce high-quality mixes from recycled construction materials, but also cement-treated base layers. 
That Vögele see green as more than the colour of their paintwork will be demonstrated by the company's new Dash-5 generation of road pavers. Also on show will be the SUPER 1900-5(i) and SUPER 2100-5(i) Highway Class pavers and the latest generation of the AB 500 and AB 600 extending screeds.
In the future, electrically powered HD CompactLine tandem rollers from Hamm will fit the bill whenever a contract demands zero-emission compaction. The e-tandem rollers are also suited to areas where compaction work must be particularly quiet. 
The drive system of the new MOBIREX MR 130(i) PRO mobile impact crusher from Kleemann is also fully electric. Thanks to the option for connection to an external power supply, the plant allows for materials processing with low energy consumption per tonne of the final product. 
Among the highlights being shown by Benninghoven will be the innovative REVOC system for the sustainable batch production of asphalt in mixing plants, and the EVO JET multi-fuel burner, which can now also generate heat from regenerative fuels such as 'Biomass to Liquid' (BtL) and wood dust, both of which have a neutral carbon footprint.