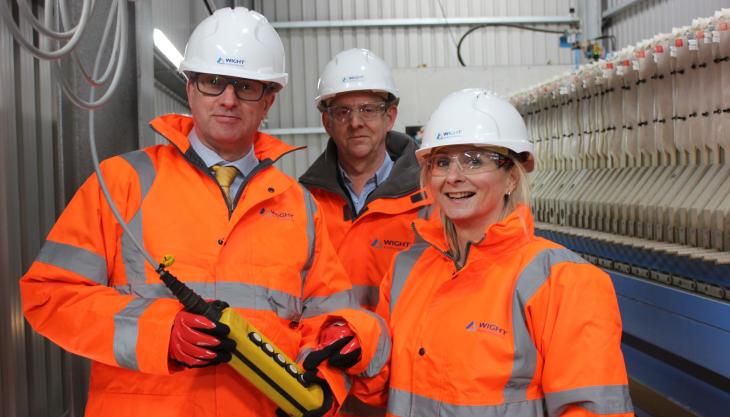 Wight Building Materials commission multi-million-pound filter press at St George's Down
A NEW multi-million-pound facility that makes sand and gravel extraction on the Isle of Wight among the most efficient and environmentally friendly in the UK is now up and running.
Wight Building Materials (WBM) have now fully commissioned a new, state-of-the-art filter press which will significantly reduce the amount of water and land used in the processing of aggregate materials at St George's Down, where Wight Building Materials have been quarrying for the past 80 years.
The press is the only such machine on the Isle of Wight and one of only a few in the UK used in aggregate production. It was officially brought on stream this week by Cllr Jonathan Bacon, IW Council cabinet member for Climate Change, Environment, Heritage, Human Resources and Legal and Democratic Services, and Cllr Suzie Ellis, the council member for Central Rural Ward, which includes St George's Down.
As well as using up to 70% less water in the filtration process, the new equipment also uses far less land, so the large lagoons traditionally used to naturally filter water away from extracted materials at St George's can now be returned to nature.
The commissioning of the plant is part of Wight Building Materials' ethos of investing in the latest technology to ensure their operations are as sustainable as possible.
Steve Burton, Wight Building Materials' general manager, said: 'This is a huge investment for a company of our size, but we are determined to use the latest technology to help us operate in the most responsible way.
'The filter press will see us use much less water and much less land because the huge lagoons we have used here to naturally filter out the water for the past 50 years will no longer be needed and can be returned to nature – a process we will undertake by working closely with local environmental experts.'
Cllr Ellis said: 'WBM are an important local employer and I am delighted to see this sizeable investment being made to help the company continue to provide locally sourced materials to the Island's construction sector in a responsible and sustainable way.'
Built and installed by Latham International of Newcastle-under-Lyme, the new 220-plate operates up to eight times a day, removing recyclable water from the silt and creating a steady supply of filter cake material for use in Wight Building Material's ongoing restoration work.
Mr Burton added: 'We are proud to be a local company and another welcome aspect of this project is that, wherever possible, we have used other local companies working in civil engineering, electrics, pipework, craneage, transport and construction to bring it to fruition.'