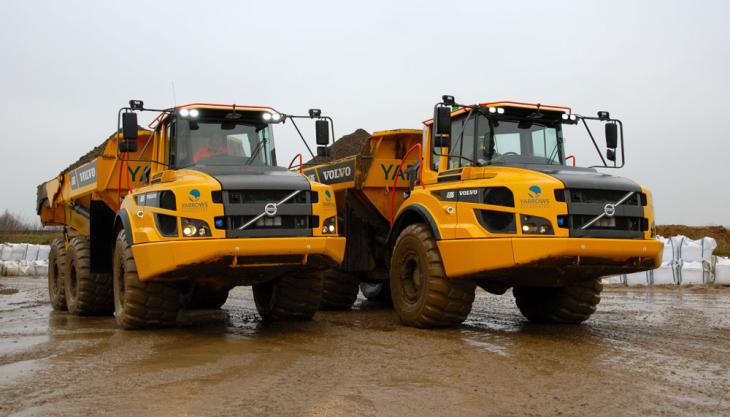 Latest haulers already proving their worth in terms of stock management and overall cost-effectiveness
TWO new Volvo A30G articulated haulers have been supplied to Yarrows Aggregates Ltd of Beverley, East Yorkshire, and are already proving their worth in terms of stock management and overall cost-effectiveness, according to managing director John Bird.
Yarrows Aggregates, part of the F.D. Bird group of businesses, are no strangers to owning and operating Volvo Construction Equipment products, having acquired their first loading shovel in 2002.
'We've run Volvo shovels and excavators in various sizes ever since and have been very satisfied with the reliability and quality of the machines,' said Mr Bird.
'The most important factor for us is the ability to support the product in the field, and I have to say that, in our experience, if there's been a problem or an issue, Volvo have never walked away from it, and this speaks volumes.'
Operating articulated haulers at the company's Little Catwick site is not new to Yarrows either. 'When we originally started our quarry operations at Little Catwick, we acquired a couple of second-hand Volvo articulated haulers to get things up and running,' explained Mr Bird.
'More recently, we've been obliged to hire in haulers on a regular basis to move and re-handle the extensive types of material we have on site. This has been especially so since we commissioned our recycling plant a couple of years ago, and consequently we rapidly came to the conclusion that investing in our own machines would be far more cost-effective in the long run.
'In the end, the overall package on the table, the machine specification and the high residual values, coupled with our good experiences operating Volvo equipment, were the deciding factors for choosing the A30Gs.'
The Volvo A30G hauler meets the requirements of Stage IV final emissions legislation, being powered by an electronically controlled, six-cylinder, 264kW, turbocharged Volvo V-ACT diesel engine.
Purpose built by Volvo, the engine is designed to exactly match the Volvo drivetrain, ensuring the best use of power and torque, even in tough working conditions. Designed for exceptional fuel efficiency, it is matched to a torque converter with built in lock-up function and fitted with a fully automatic fast adaptive transmission.
The two A30Gs supplied to Yarrows Aggregates feature a number of significant upgrades that have been applied to the Volvo articulated hauler product for 2017. For example, payload has been increased, to 29 tonnes, as has heaped volume, by 0.5 cubic metres to 18.0 cubic metres.
Moreover, the body material has been upgraded from HB400 to HB450 for improved wear characteristics. Other features include 'Hill Assist' as standard, whereby the hauler can be held on a slope until sufficient torque to move the machine is detected.
Also, the haulers now include Volvo dynamic drive for smarter gear shifting, which takes the environment and payload conditions into consideration, while an on-board weighing system logs all transported loads for complete payload management and can be accessed remotely via Volvo's CareTrack telematics system.
'Volvo's on-board weighing solution was another major reason for choosing the new A30Gs,' said Mr Bird. 'It means we can accurately move, record and stockpile our recycled aggregate as well as our virgin material. It's a fantastic management tool for us.'