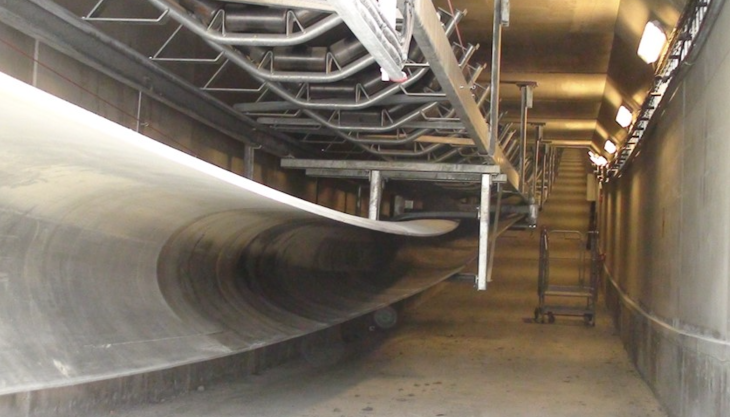 Brunone belt-turning system helps Cambridgeshire quarry save time, money and the environment
THE owners of a quarry in Cambridgeshire have installed a Brunone belt turner which is not only saving considerable time and money by almost eliminating the need for under-belt cleaning, but is also having a positive impact on the environment.
Under-belt cleaning is a time-consuming and sometimes hazardous job that few people want to do, particularly if, as in this case, the belt runs through a tunnel.
The quarry owners had fitted a scraper blade to one end of their conveyor but this was unable to cope with the amount fines, which was causing an environmental issue. However, this issue was resolved with the installation of a Brunone belt turner.
Available in the UK from Portable Vacuum Solutions, the Brunone belt turner works by turning the dirty side of the belt to face upwards at the drive pulley before turning it back again at the tail pulley.
Once the dirty side is facing upwards, the fine material cannot fall to the ground and accumulate underneath the conveyor.
As a result, instead of sand and dust piles building up underneath each of the return rollers, these piles are now limited to two easily accessible positions, at the head and the tail ends, which can be cleaned up much more safely and efficiently, reducing the manual handling risks to operators.
The Brunone belt turner is easy to install. It took the quarry maintenance team in Cambridgeshire less than a day to install, despite challenges with limited space, and has provided an economical solution to what would otherwise be an expensive ongoing problem.